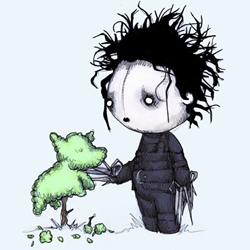 I thought it was a mistake when a Johnny Depp drawing I did was in the 'sold' category.
Los Angeles, CA (PRWEB) July 11, 2017
What would happen if Tim Burton and Lisa Frank got together while Batman sat in the corner and watched? Apparently, the work of Ludwig Van Bacon. Ludwig Van Bacon, aka Justin McCafferty, is a 32- "going on 12-year old" from Fayetteville, GA who worked at a copy repair depot just a few years ago. Today, he is cashing in on an entrepreneurial tidal wave – online retail shops, selling his art. Right behind it? The launch of his own online shop, LVBart.com
The best part? McCafferty is not even an artist.
In a time when 80s and 90s movie and TV reboots are literally everything, McCafferty's art is really beginning to turn heads, and wallets. His belief that humans have a strong kinship to the movies of their youth, may just be the best thing that ever happened to him. Or to you, if you are a fan of Princess Bride, David Bowie's fangirl favorite "The Labyrinth," "Edward Scissorhands," "BeetleJuice," "The Neverending Story" or Stephen King's "IT." Which let's be honest, who isn't? Not to mention the 90s music and cultural nods like Kurt Cobain.
McCafferty, who today sells art under LVB Art or Ludwig Van Bacon, first drew a Batman – simply out of doodling boredom. "I don't like drawing pupils and you can use his cape to cover up parts you don't want to draw," McCafferty said. That Batman rendering would come to be the first thing that he accidentally sold. But not even close to the last.
"People suddenly wanted to pay me for my drawings. At first I was just on Instagram, and I gave people my Paypal information. I remember the first time I used Etsy, I didn't know anything about prints. I thought it was a mistake when a Johnny Depp drawing I did was in the 'sold' category. It's actually still shocking to me that people are into my art enough to shell out their hard earned nickels," he said.
Apparently, the world is seeing something McCafferty does not: the ability to buy a Banksy before it was Banksy, a Burton before it was Burton or even a Warhol before it was Warhol. Over 900 items and seven successful online stores later – which include Amazon, Red Bubble, CowCow, Society6 and more – LVB Art is seeing six figure plus salaries. And he's just getting started. No more copy shop job. These items include clothes, cell phone covers, umbrellas, USB drives, watches, coasters and more.
"Basically if you can put it on your body or in your home, there's a good chance you can buy it with my art on it."
McCafferty's art has become the subject of viral memes (unwatermarked), Spencer's tees, rock band album art, full fabric lines, personal tattoos and individual commission pieces from all over the globe. In his "Plushie People" series, which is quickly becoming a fan favorite, McCafferty "plushies" people's pets or family members by taking out the eyes and adding stitch detail. No question, McCafferty has very quickly become an artist to watch.
McCafferty largely credits his five-year old son, Ezra, for his inspiration – both creatively in his art and motivationally in losing over 100 pounds. "[Ezra] is the real inspiration that keeps driving me to do whatever is necessary to have a career that allows me to spend as much time with him as possible.
For more on Justin and LVB Art, visit http://www.LVBArt.com. | For editorial questions, contact Amanda at (323) 559-2215.