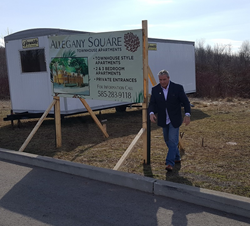 This has been a project in the works for many years, so to be able to step in and revitalize it in such a positive way is exciting because not only will it meet immediate area housing needs, but it will also create jobs and stimulate the local economy.
Rochester, NY (PRWEB) July 12, 2017
The Empire State EB-5 Regional Center has announced plans to spearhead the financing and development of the Allegany Square project in Sweden, NY, directly across from the College of Brockport (SUNY). The Allegany Square will be developed in two phases, resulting in 150 townhomes, a fitness center, and a business center. Ground preparation for the project has begun and new townhouses will be available for families, professionals, and students to begin leasing in Fall 2017. The $18 million EB-5 Regional Center development project is scheduled to be completed by 2020 and will create more than 200 jobs in the community.
The EB-5 Visa Program was created by Congress in the 1990s to stimulate economic development in the United States. Since 2005, this program has generated over $15 billion from foreign qualified investors, has conservatively created over 100,000 U.S. jobs, and has become an essential economic development financing tool. Under the EB-5 Visa Program, each qualified investor is required to invest a minimum of $500,000 and create a minimum of 10 new American jobs for which they will receive a Visa, and permanent US Citizenship once the U.S. Citizenship and Immigration Services (USCIS) has completed their investigation process.
These EB-5 funds are then invested by designated companies like The Empire State EB-5 Regional Center in certain high-unemployment or rural areas, such as the Brockport area. EB-5 financing for Allegany Square will total $7.5 million of the $18 million budget.
"Since the 2008 financial crisis, access to capital has been constricted and municipal budgets continue to face significant shortfalls," Mr. Eckert explains. "EB-5 investments have filled the funding gap, providing a new, vital source of capital for local economic development projects that revitalize communities, create and support jobs, infrastructure and services. This is what we are doing with Allegany Square, and the interest from foreign investors has been high because they see the need that will be filled in the community."
Mr. Eckert applied with the USCIS in 2011 for Regional Center approval so that he could offer this unique Visa program to commercial developers in New York State. He was approved in 2012 and has since successfully helped three projects generate more than $12 million in EB5 financing, including the LaQuinta Inn & Suites in Niagara Falls, NY; the Rochester Hilton Garden Inn in Rochester, NY; and the Aloft by Marriott in Syracuse, NY. The Empire State Regional Center is one of 153 USCIS-approved Centers in New York State and responsible for the economic development in the Upstate NY area.
For more information,contact David Eckert at:
585-490-0672 and at david(at)EB5email.com