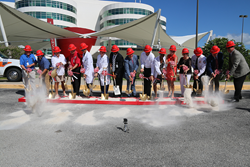 TAVARES, Fla. (PRWEB) July 10, 2017
TAVARES, Fla. (July 6, 2017) – Florida Hospital Waterman, Jacobs, Robins & Morton, Gresham Smith & Partners and honored guests joined together to officially break ground on the Florida Hospital Waterman Emergency Department Expansion and New Patient Tower located in Tavares, Florida.
The $70 million expansion and renovation project will add more than 111,000 square feet of patient care space to the hospital including an expansion of the Emergency Department to 58 beds and a 24-bed women and children's unit. Floors three and four of the new patient tower will be shelled for future growth, and the structure will support an additional expansion up to six floors. The project will more than double the hospital's Emergency Department capacity as well as expand their women's services, pediatrics and future growth. The project also includes the addition of a sub-grade connecting tunnel, connecting structure, and adding required MEP capacity and upgrades to the existing Central Energy Plant.
"The expansion and renovation of the Emergency Department and new patient tower mark the single largest investment in a Lake County healthcare facility since Florida Hospital Waterman's Tavares campus was completed in 2003," David Ottati, President and Chief Executive Officer, Adventist Health System Central Florida Division North Region said.
The expansion and renovation is scheduled to be completed in October 2019.
###
About Robins & Morton
Founded in 1946, Robins & Morton is a privately held construction firm that consistently ranks among the 100 largest U.S. contractors in Engineering News-Record Magazine. The company has also been named one of the best mid-sized companies to work for in America because of its worker-friendly and family-friendly practices. Robins & Morton is based in Birmingham, Alabama, with offices in Dallas, Texas; Huntsville, Alabama; Orlando and Miami Florida; Nashville, Tennessee; Charlotte, North Carolina. For more information, visit http://www.robinsmorton.com.
Contact: Katy Klaproth, Division Marketing Director
(407) 916-7235, kklaproth(at)robinsmorton.com