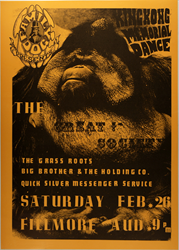 We're hoping our $45,000 reward brings at least one seller out of the woodwork.
PARK CITY, UTAH (PRWEB) July 11, 2017
A $45,000 reward has just been announced by Psychedelic Art Exchange for anyone that has an authentic, undamaged original first printing of the Family Dog FD-2 King Kong Memorial Dance Concert Poster. The rare concert poster promotes a performance by The Great Society and Big Brother and the Holding Company that took place at the Fillmore Auditorium on February 26, 1966.
"We recently auctioned off a copy of the famous FD-1 Tribal Stomp concert poster that generated tremendous interest around the world," explained Scott Tilson of Psychedelic Art Exchange, the auction house offering the reward. "Now we have collectors begging us for the FD-2 concert poster which is even rarer. We're hoping our $45,000 reward for an undamaged copy brings at least one seller out of the woodwork. Collectors need to know we would be thrilled to acquire this special poster in any condition and we're willing to pay a world record price to get it," explained Tilson
The Family Dog FD-2 King Kong Memorial concert poster has special historical significance because it is just the second in the Family Dog concert poster series. Less than 500 original first printings were produced and just a small fraction of those are known to exist today. If you have a Family Dog FD-2 King Kong Memorial Dance concert poster you wish to sell, or any other Family Dog or Fillmore Auditorium concert posters from 1966, call Scott Tilson at 435-659-1660 or email Scott (at) ConcertPosterGallery.com