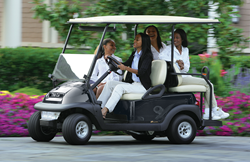 Please stop by booth 700 to request a free fleet audit or a copy of our white paper on how to build a comprehensive transportation strategy on your campus. The paper explains how the fleet audit process works and how it benefits your campus. .
Augusta, GA (PRWEB) July 11, 2017
Club Car will highlight its Transportation Solutions Program and showcase a Villager 4 at booth 700 of the 2017 APPA Annual Conference and Exhibit from July 20-22 in San Francisco, Calif.
"Our all-encompassing Transportation Solutions Program lets us identify and solve transportation problems on campuses, resorts and other sites," says Commercial Marketing Leader Mary A. Sicard.
Under the program, Club Car has invested in training Transportation Solutions Experts. "These professionals understand the campus environment and will work with you during fleet planning and beyond. They will audit your fleet – department by department and vehicle by vehicle – and help you design a comprehensive transportation strategy that right-sizes and accessorizes each vehicle for the task at hand," Sicard says.
Stop by booth 700 to request a free fleet audit or a copy of Club Car's white paper -- How to Build a Comprehensive Transportation Strategy on Your Campus – that explains this process and its benefits in detail.
You can also get information on the new Carryall Fit-to-Task Series that launches this year. Each of the vehicles is designed for a specific application on campuses. That includes facilities-engineering, grounds maintenance, security, ambulance service, refuse removal, food service, housekeeping and more.
Club Car vehicles are purpose-built for work with rustproof aluminum frames, safe maximum speeds of 25 mph or less and suspension systems designed to carry loads.
Competitive vehicles, on the other hand, are often built for recreational use, with steel frames that can rust, high speeds that may pose dangers on campuses and suspension systems designed for hustle, not for carrying cargo.
To learn more or schedule a free fleet audit or test drive, please visit http://www.clubcardealer.com.
About Club Car
Club Car, one of the most respected names in the golf industry, is the world's largest manufacturer of small-wheel, zero-emissions electric vehicles. The company's Precedent® golf cars, exclusive Visage™ Mobile Golf Information System, and Carryall® turf utility vehicles are integral to successful operations at thousands of courses around the world. Carryall utility and transport vehicles are used in a variety of commercial, industrial, government, rental and resort applications. The company also offers street-legal, low speed vehicles (LSVs) for personal and commercial use, all backed by Club Car's 50+ year legacy of superior design, manufacture and service. Club Car is part of Ingersoll Rand, and is based in Augusta, Ga. Visit http://www.clubcar.com.