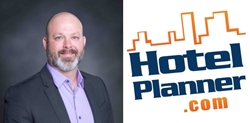 We view his appointment as part of an expansive effort within our sales department to grow group business bookings in Las Vegas and in the state of Nevada
West Palm Beach, FL (PRWEB) July 11, 2017
HotelPlanner.com, the largest online producer of group and individual hotel bookings, is pleased to announce their newest team member Scott Beane, as the company's Senior Regional Product Director for the Las Vegas/Nevada markets.
With 23 years of experience in the travel and hospitality industry, Mr. Beane started his career at the University of Nevada-Las Vegas, where he obtained his degree in Hotel Administration. He has multiple years of work history planning events as large as 8,000 attendees. He has incentive group experience working at high end activity providers such as Exotic Racing as a Director of Sales. Scott is also an active member of the Las Vegas hospitality community and serves as a board member for the Las Vegas Hospitality Association.
Mr. Beane will be leading HotelPlanner's efforts to further expand business in Nevada and other gaming destinations.
"Scott is extremely well connected in the Las Vegas area and an excellent fit for our culture," stated Tim Hentschel, CEO of HotelPlanner.com. "We view his appointment as part of an expansive effort within our sales department to grow group business bookings in Las Vegas and in the state of Nevada."
About HotelPlanner.com:
HotelPlanner.com is the leading provider of online services in the global group hotel marketplace. Listed among the top 50 travel sites in the world and ranked number one in group travel, HotelPlanner.com is on track to produce nearly 1 million group leads this year, and is providing group hotel booking services to over 3,000 groups per day. The company's robust technology and automated rate checkers provide customers with the guaranteed lowest available rates from a network of more than 100,000 quality hotel partners worldwide, making it easier and faster to book hotels for any corporate and leisure event. With its new eRFP group booking system, "Book-in-Block" and licensing technologies, HotelPlanner.com continues to advance the group booking process online for direct clients, market leading affiliates and hotel partners worldwide.
The company owns and operates Meetings.com, a premier site that provides information, planning and booking services for meetings and hotel stays for corporations, associations and business-to-business enterprises. By combining advanced technology with a highly experienced staff of professional meeting planners and travel specialists, Meetings.com quickly finds clients the perfect space at the best price for meetings large and small.
Customers can visit HotelPlanner.com online at http://www.hotelplanner.com, or on its mobile app, which provides users with the lowest, real-time hotel rates and availability, detailed hotel information and an easy booking tool right from the palm of their hand. They can also follow HotelPlanner.com on Facebook, Instagram, Twitter, Google+, YouTube and its Everything's Better Together blog.
Founded in 2002 by CEO Tim Hentschel and CIO John Prince, the company provides 24/7 customer service and has offices in London, England (European Headquarters), Hong Kong (Asian Headquarters), West Palm Beach, FL (USA Headquarters), and Las Vegas, Nevada.
HotelPlanner.com is proud to provide hotel reservation services to valued clients within the sports team and university, corporate, and government organizations. The company's Pro Sports Team clients most notably include Matchroom Sport, Washington Redskins, Professional Bowlers Association, European Professional Golfers (EuroPro), Super League (Rugby), AFC Wimbledon, Euroleague Basketball, Millwall F.C., and Swansea FC. In terms of college travel, Universities such as Texas A&M, New Mexico State, Saint Mary's College, Bradley University, University of Reno-Nevada, University of Illinois-Chicago, Northeastern University, Cal Poly, and California State University Northridge use HotelPlanner to negotiate their group travel and recruiting stays. Corporations such as CROMPCO, Jackson Motor Sports, National Grid, Chicago Bridge & Iron, Publix, Servpro and Government clients such as the State of Louisiana, State of Arizona, Government Services Agency, and US Communities also utilize HotelPlanner.com as their hotel procurement provider to negotiate hotel rates, book hotel reservations and provide excellent service year-round.