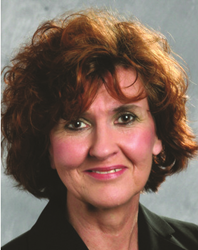 I'm pleased to have the opportunity to collaborate with my colleagues across the industry to support privacy guidelines for all Americans.
Silver Spring, Md. (PRWEB) July 10, 2017
During the 2017 SIA GovSummit, SIA Chairman Denis Hebert announced that Kathleen Carroll, Vice President, Government Affairs, HID Global, would assume responsibilities as chair of the Security Industry Association (SIA) Data Privacy Advisory Board. Hebert also announced that Craig Sharman, Director, Federal Government Relations, Johnson Controls Inc., would chair the SIA Government Relations Committee, a position previously held by Carroll.
SIA previously announced the establishment of the SIA Data Privacy Advisory Board in January. The association established the board to develop and promote guidelines related to enhancing the security of personally identifiable information (PII), protected health information (PHI) and other sensitive data. The responsibility for data security is widespread, and the board will work with manufacturers, integrators, end users and other stakeholders to promote the use of best practices at all levels.
"I am pleased to assume this new role at the Security Industry Association," Carroll said. "As a Certified Privacy Professional, I've been working on the forefront of privacy considerations in the security industry at HID Global for more than a decade, and I'm pleased to have the opportunity to collaborate with my colleagues across the industry to support privacy guidelines for all Americans."
Carroll chaired the SIA Government Relations Committee since 2012, managing its affairs with a particular focus on identity management issues. Sharman, who has been actively involved in SIA Government Relations since 2008, took over as chair effective immediately.
"I would like to thank Kathleen Carroll for her tremendous work as SIA Government Relations Committee Chair, and thanks to SIA leadership for the opportunity to make a difference," Sharman said. "I look forward to taking this leadership role and will continue to work to elevate our industry among elected officials and advocate on policy issues that are important to SIA member companies."
"The fulfillment of these roles by Kathleen Carroll and Craig Sharman will benefit the security industry and safeguard precious advancements in advocacy," said SIA CEO Don Erickson. "As top industry executives, they bring a wealth of expertise and contacts to the association, and I could not be prouder of their continued leadership in SIA affairs."
About the Security Industry Association
The Security Industry Association (SIA) (http://www.securityindustry.org) is the leading trade association for global security solution providers, with more than 750 innovative member companies representing thousands of security leaders and experts who shape the future of the security industry. SIA protects and advances its members' interests by advocating pro-industry policies and legislation at the federal and state levels; creating open industry standards that enable integration; advancing industry professionalism through education and training; opening global market opportunities; and collaboration with other like-minded organizations. As a proud sponsor of ISC Events expos and conferences, SIA ensures its members have access to top-level buyers and influencers, as well as unparalleled learning and network opportunities. SIA also enhances the position of its members in the security marketplace through SIA Government Summit, which brings together private industry with government decision makers, and Securing New Ground®, the security industry's top executive conference for peer-to-peer networking.