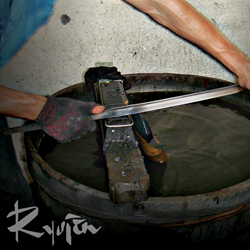 People want something unique. You can't sell the same boring brands that everyone else is selling and make a living anymore.
MOULTRIE, Ga. (PRWEB) July 12, 2017
Sword and weapons collecting has been a part of human culture since prehistory, archaeologists say. As long as there have been weapons makers, there have people to collect their handiwork. Early collectors were largely driven by the need for food, self-protection and even building armies for military conquest. While it's unlikely any of today's armies would take on their neighbors with just the sword and shield, contemporary bladed weapons collectors are every bit as enthusiastic as their ancient forebears.
One e-commerce company, BUDK, pronounced "bud kay" has sold knives and swords for more than 30 years. Founded in 1989 by Clint Kadel in Moultrie, Ga., BUDK began as a mail order catalog and has grown to one of the largest knife and sword dealers on the planet through both catalog and e-commerce sales. They've sold everything from pocket knives to Japanese katana and, through it all, have found one thing in common.
"People want something unique. You can't sell the same boring brands that everyone else is selling and make a living anymore," said Founder and CEO Clint Kadel.
"We've seen a pattern of requests from our customers to make changes to their swords to make them unique – make them their own. We didn't have a way to give our customers the ability to customize our products, but we felt like it was something they were telling us they wanted. We decided to develop the custom sword shop to allow our customers to customize their own Japanese katana sword with a simple web tool," he added.
The web interface allows the customer to change the most visually affecting parts of the sword design, Kadel explained.
First, customers choose their blade type. Next, they choose their tsuba, the decorative hand guard on katana swords. The tsuka, or handle wrap and accents, follows the tsuba, and finally the customer chooses the saya, or sword sheath. Customers even have the opportunity to choose a traditional Japanese storage box for their customized katana.
Each sword features a clay tempered, high-carbon T10 steel blade that's hand-forged using centuries-old techniques. A master swordsmith is sent the options our customers choose and assembles the sword to their exact specifications. In spite of this impressive level of personalization, the lead-time for each sword is only two to three days, as they are assembled in a U.S.-based facility.
"Our customers will have the most unique katana on the market at a starting price of only $249. Finding someone in Japan to handcraft a sword could cost several thousand dollars, but we're offering a similar experience for a fraction of that price. You can't find this kind of experience from any other major sword retailer, and that's what sets up apart. Forward thinking and continuing to put our customers first," Kadel said.
To order your very own custom sword visit http://www.budk.com today.