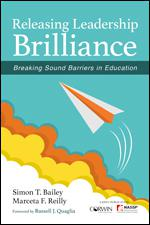 This book challenges you to evaluate yourself first, reflect on your own beliefs and assess how you conduct yourself as a leader.
PHILADELPHIA, Penna. (PRWEB) July 10, 2017
Today at the 2017 National Principals Conference, the first-ever joint conference for pre-K-12 school leaders, Releasing Leadership Brilliance: Breaking Sound Barriers in Education, a new guide for moving schools from mediocrity to brilliance was unveiled. Co-authored by Simon T. Bailey and Marceta F. Reilly, two leaders with deep experience in the business and education worlds, this new book provides a simple and sustainable framework for overcoming barriers in schools that keep students from reaching high achievement.
Published by Corwin, the premier publisher of professional resources that equip preK-12 educators with innovative tools to improve teaching and learning, in collaboration with the National Association of Secondary School Principals (NASSP), Releasing Leadership Brilliance features compelling case studies of successful school leaders from around the country as well as useful tools and resources, providing the inspiration for school leaders to make deep, lasting change in their schools or districts.
In the book's foreword, widely renowned education pioneer Russell J. Quaglia tells school leaders, "This book challenges you to evaluate yourself first, reflect on your own beliefs and assess how you conduct yourself as a leader. Armed with this knowledge, you can unlock your own potential. With a commitment to improving your own leadership skills, you can then invite others to being their journeys. With a shared belief in the goals of the school, these journeys can merge to inspire and engage students, colleagues and community members alike."
Simon T. Bailey leads an education company whose purpose is to teach one billion people how to be brilliant in life and business. He is the former sales director of the Disney Institute and one of America's top 10 most-booked corporate and association teachers. Simon has authored seven books including Release Your Brilliance, which is published by HarperCollins and ranked No. 17 of the top 100 books being read by corporate America, according to 800CEORead.com. He has shared his expertise at Microsoft, The Conference Board, Cigna, WalMart, Chevron, Mass Mutual and Cargill.
Marceta F. Reilly spent 34 years of her career in public education experimenting with ways to teach and lead that make schools the trusted center and heart of a community. Today she is a speaker, leadership coach and consultant for Reilly and Associates. She is a co-author of three books about school leadership in which she helps individuals and teams get clearer about their strengths, more confident about how they "show up" in their work, and more effective in their collaborative working relationships.
Bailey and Reilly will shine their brilliant lights at this week's conference through a number of sessions and speeches.
Today at 9 am in Room 109 AB, they will present the concurrent session, "Teaming: The Emotional Glue for School Culture." In this session, participants will explore how to harness the energy of educators to work together so the school becomes a place where everyone thrives. They will learn teaming skills that build professional presence and foster student success.
At 11:30 am today, they will be signing copies of Releasing Leadership Brilliance in the Exhibit Hall Book Store. Finally, Bailey will be the speaker at tonight's NASSP Salute to Leaders Reception.
Releasing Leadership Brilliance: Breaking Sound Barriers in Education
By Simon T. Bailey and Marceta F. Reilly
ISBN: 9781506346960
Price: $27.95