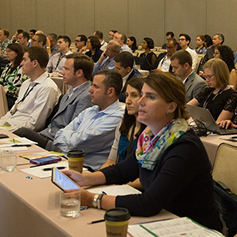 Chicago, Illinois (PRWEB) July 12, 2017
ktMINE, an intellectual property (IP), innovation, and intangible asset information services firm, announced today they are a Gold Sponsor of the 2017 National Association of Business Economics (NABE) Transfer Pricing Symposium, taking place from July 18 - 20, 2017 at the Four Seasons Hotel in Washington, DC. The symposium gathers the leading professionals from businesses, governments, and consulting firms to discuss and debate the most relevant economics topics in the field of Transfer Pricing.
ktMINE will be sponsoring the attendee badge lanyards for the conference. Brett Schoell, Business Development Manager for the Transfer Pricing & BEPS market, and Michael Taylor, Chief Technology Officer will attend the symposium. Avid proponents of data transparency, Brett and Michael will be available to discuss transfer pricing hot topics such as base erosion profit shifting, and how intellectual property data can be used to stay compliant.
In it's 7th year, the NABE Transfer Pricing Symposium fosters engagement with a diverse set of views and insights, and provides ample opportunity to network with transfer pricing colleagues from a wide range of organizations and sectors. Topics this year range from "The Great TP Debate" to "How to Deal with Financial Services Transactions in Local File/Master File", "UN Toolkit on Comparable Data" and more.
For additional information about the 2017 NABE Transfer Pricing Symposium, please visit the symposium website.
About ktMINE
ktMINE, headquartered in Chicago, IL, is an IP, innovation, and intangible assets information firm founded in 2008. Focused on mining, organizing and connecting the world's IP information, ktMINE provides Transfer Pricing professionals across the globe access to unparalleled data and analytics needed for strong and defensible analyses. For more information, visit http://www.ktmine.com, or contact ktMINE to schedule a meeting.