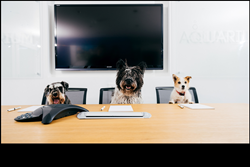 The human health benefits of owning pets and allowing them into the workplace are already well documented, so I applaud this national initiative and congratulate Aquarium Software on its full support of #Bringyourdogtoworkday
(PRWEB) July 11, 2017
The initiative was part of the company's enthusiastic approach to the national day of dogs in the workplace, with the Aquarium team and nine dogs all thankfully getting on well.
Dr Anita Bhanja B.Vet. Med. GPCert (Derm) MRCVS, of http://www.Eternalpaws.co.uk attended Aquarium's office for the day and was available to answer health queries any pet parent had about their dog. "Research has shown that pets can relieve stress and initiatives that have seen animals taken into UK nursing homes have been shown to lower patient blood pressure," said Dr Anita. "The human health benefits of owning pets and allowing them into the workplace are already well documented, so I applaud this national initiative and congratulate Aquarium Software on its full support of #Bringyourdogtoworkday both physically and emotionally."
"Given that my colleagues and I at Aquarium have been shouting about the benefits of bringing pets to work for the past three years now, it would be strange if we didn't take the lead when it comes to Bring Your Dog to Work Day," said Aquarium's Director, Mark Colonnese. "We went to great lengths to accommodate our increased workforce and I think we all agreed it was a resounding success," added Mark.
Aquarium was keen to see if the benefits could be replicated in the workplace, too. This saw Archie the Schnauzer, Jazz (the Heinz 57) and Lola (Jack Russell) take on the roles of Top Dog, Deputy Dog, and Director of Canine Resources.
Aquarium Software is currently being implemented by a number of key pet insurers, and affinity partners in the UK, Europe, USA and Canada. For further information contact Aquarium Software on
+44 (0)161 927 5620 or visit http://www.aquarium-software.com