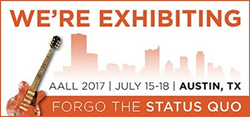 Chicago, IL (PRWEB) July 11, 2017
ktMINE, a Chicago based innovation and intellectual property (IP) information services firm, announced today that they will be an exhibitor at the 2017 American Association of Law Libraries (AALL) Annual Meeting & Conference, taking place from July 15-18, 2017, in Austin, Texas. ktMINE will also be be the sponsor of the Private Law Librarians & Information Professionals Special Interest Section (PLLIP-SIS) IP Group Meeting and Breakfast on Sunday, July 17. This will be the 110th conference and is the leading educational and networking event for legal information professionals.
ktMINE's John Wiora, Director of Operations, Eric Podlogar, Market Lead of IP Strategy & Valuation, Courtney Conn, Business Development Consultant, and Laura Sorg, Marketing Manager, will be representing ktMINE at booth 704. In strategic alliance with Wolters Kluwer, participants will receive a free Wolters Kluwer power bank at the ktMINE booth after watching a product demonstration. ktMINE applications are offered within Wolters Kluwer's premier research and workflow solution, Cheetah. ktMINE allows organizations to focus less on the collection of IP data and more on IP strategy, enabling the pursuit of new opportunities across all major IP practice areas including, litigation, licensing and transactions, prosecution, and mergers and acquisitions. Learn more about ktMINE for IP Strategy, Valuation & Risk from their website: ktmine.com/ip-strategy-valuation.
AALL 2017 Annual Meeting & Conference is the industry's only focused event for professionals involved in law library management, acquisitions, and services. This year's event will celebrate the innovators within the legal information profession and highlight the skills, talents, and attributes that provide added value and meaning for organizations. The theme, "Forgo the Status Quo," will be represented throughout the conference. There will be over 30 programs and hot topic programs will include: "Finding Truth in the Age of Fake News and Alternative Facts", "Sending the Right Message: Finding the Words to Communicate Your Value," and "How the Legal Market Continues to Charge in the Aftermath of the Great Recession."
About ktMINE
ktMINE, headquartered in Chicago, IL, is an IP information firm founded in 2008. Focused on minimizing research time, maximizing analysis power, and strengthening business decisions, ktMINE provides businesses across the globe access to insights on industry players, technologies, and developments. For more information, visit http://www.ktmine.com, or contact ktMINE to schedule a meeting.