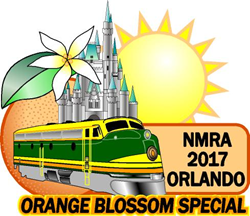 Come to Orlando and Enjoy the Excitement of the National Model Railroad Association Experience!
Orlando, Florida (PRWEB) July 14, 2017
The theme of the 2017 National Model Railroad Association (NMRA) National Convention and National Train Show (NTS) is the Orange Blossom Special, promising to "Make Model Railroading Magical!" Hosted by the Sunshine Region of the NMRA, the Orlando location is ideal for those interested in both model and real trains, as well as those who have always thought about attending an NMRA Convention, but whose family vacation always came first. The Convention and Train Show are designed for model railroaders of all ages, abilities and areas of interest. In addition to all the model railroad action, the Convention offers non-rail and general interest tours, and discounted tickets to popular area attractions for those attending with their favorite rail buffs.
The ideas and concepts behind NMRA 2017 National Convention are simple: Create an outstanding Model Railroad Convention with everything model railroaders have come to expect and enjoy in an NMRA National Convention, and locate the Convention in the number one convention destination and number one vacation destination in the world, Orlando.
2017 National Convention Details
First time attendees to an NMRA Convention should not be overwhelmed by all that this convention offers. It's designed for everyone! Come with model railroading friends, renew friendships or make new friends with model railroaders. The NMRA Convention is perfect for both those new to the great hobby of model railroading and those simply curious about the hobby and want to learn more.
Clinics: By far the heart and soul of every NMRA National Conventions, hundreds of seminars (called "clinics") are offered throughout the week. A broad mix of program tracks and skill levels are offered so attendees will be able to plan schedules for maximizing learning in different subjects and techniques. Most clinics are an hour long and included in the registration fee for all Convention registrants, but there are some Extra Fare Clinics, which usually involve hands-on, make-and-take formats. One popular example of this clinic type is Modeling with the Masters (MWTM). These half-day MWTM clinics are presented by those who have earned their Master Model Railroader certification through the NMRA Achievement Program.
Contest Room: Display personal models, get in on the competition or just check out exceptional models, modules and photographs of all types. And don't forget to vote for the People's Choice winner. An Arts and Crafts section is also included to showcase the fine work of non-modeling attendees.
Tours, tours and more tours: Layout, Prototype, museum and shop tours for every taste are all available! Visit the NMRA Company Store to register for tours. Discounted tickets for non-rail and general interest tours can also be purchased there.
Silent Auction: Find that long lost freight car or earn some additional cash for the National Train Show by selling items no longer needed.
2017 National Train Show Details
The 27th Annual National Train Show, the industry's most respected model train show and trade exposition, will be held at the Orange County Convention Center in Orlando, FL on August 4, 5 & 6, 2017 in conjunction with the NMRA National Convention. All major manufacturers and retailers of model railroad products will be there to showcase their newest products from all aspects of model railroading. Also, attendees can speak directly to the manufacturers to ask questions or get information. The event will contain more than 140,000 square feet featuring outsanding and extraordinary operating model train displays. From first timers to seasoned modelers, there is something for everyone.
Special Highlights of the National Train Show:
The Incredible Lego® MiniLand - It will stop everyone in its tracks! This 2,500 sq. ft. area is dedicated to the creation of dynamic, originally-designed displays featuring operating model railroads, hundreds of train cars, various landscape settings and waterfalls, scale building, retractable bridges, and more…and all made entirely out of millions of Lego® pieces! Attendees are invited to "meet the modelers" and learn how to build their very own original display.
Ask The Collectibles Appraiser - Have an old train set hidden away in the closet? Wondering what it's worth? Bring it to the show and find out from The Collectibles Expert. This service is free to all attendees.
Children's Play Area - Children can enjoy 1,500 sq. ft. of fun including trains, games and more during the show. The area is chaperoned at all times and is free of charge.
Hands-On-Demonstrations - Learn how to get started on a model railroad empire, and find out the latest techniques from well-known exhibitors and from pros at the Meet the Master Modeler booth.