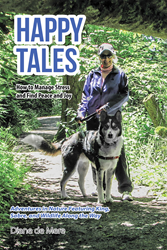 Nature is my antidote for family stress and my cure for fatigue and frustration.
Seattle, Washington (PRWEB) July 17, 2017
Instead of teaching about managing stress and making the most of life, motivational speaker and corporate trainer Diane De Mere wanted to follow her own example, and others are taking notice.
Taking her own advice, De Mere embarked on a mission to gain control of her own stress, while helping others follow in her path. In her book, "Happy Tales: How to Manage Stress and Find Peace and Joy," De Mere journaled her experiences, seasoned with stories of her rescued animals and the wildlife of the Pacific Northwest. Since releasing her book, De Mere has received much attention from corporate training organizations, animal groups and travel writers. Her campaign was so well-received, she decided to start another one to further her reach and change more lives.
"I escaped the concrete monoliths of steel," De Mere said, "the pressure cooker world of business, into the wild world of adventure and the peace of living in nature. My story features the high-jinx of my Alaskan Malamutes and the stunning splendor of otters, eagles and orcas."
A supporter of non-profits and animal rescue organizations, De Mere weaves animal adventures into her tips for stress management, mindfulness and meditation.
"Surrounded by nature," De Mere said, "I am brought closer to my Creator. Nature is my antidote for family stress and my cure for fatigue and frustration."
For more about De Mere, visit her website at: http://www.dianedemere.com/.
"Happy Tales"
By Diane de Mere
ISBN: 978-1-5127-6825-1
Available at the WestBow Press, Barnes and Noble and Amazon
About the author
From 1994-2004, Diane de Mere spent her career as a successful trainer and motivational speaker, teaching leadership and communication skills, motivation and image, based on values and ethics. Her clients included Fortune 500 companies and colleges. She and her husband moved from Los Angeles to Seattle in 2004, where she focused on stress management. They live on Whidbey Island, Washington, with their rescued pets. For more information, to order "Happy Tales" or read her blog about her travels and wildlife friends, visit http://www.dianedemere.com/.
###
Review Copies & Interview Requests:
LAVIDGE – Indianapolis
Lindsey Gobel
317-435-2116
lgobel(at)lavidge(dot)com