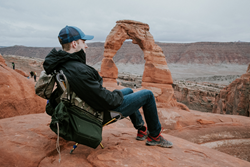 Most of our product design ideas & innovations were born on the trail or have been inspired by our own adventures. We understand & appreciate the "roughing it" & "minimalist" perspectives, & we believe it's not always necessary to sacrifice comfort.
Lehi, Utah (PRWEB) July 10, 2017
The Chameleon Backpack System by Trailform will carry a load but will also help people take a load off. Quickly and easily transform this daypack into an ultra light camp or travel chair, without having to empty any contents. Users never have to sit on the cold, hard ground again due to the Chameleon's patent-pending Sit-System™ Technology, there will always be an open seat. The Chameleon Pack System has just launched on Kickstarter with a funding goal of $30,000 to bring their product to life.
Every Chameleon Pack includes the day pack, the Sit-System chair, and two stuff sacks called Switch-Bags™. These Switch Bags hold the contents of the backpack inside and when converted to a chair they hang over both sides keeping the contents at an arm's reach and off the ground. Each has a drawstring top but also two zippers that run the length of the bag for multiple access points. They can be removed from the backpack or chair and used separately as drawstring slings or simply used as stuff sacks. The Switch Bags can also be snapped together to form a 32 liter drawstring backpack.
"So many of life's greatest events, memories and highlights occur in the outdoors," said Mark Ackerman, co-founder of Trailform. "Most of our product design ideas and innovations were born on the trail or have been inspired by our own adventures. We understand and appreciate the "roughing it" and "minimalist" perspectives, and we believe it's not always necessary to sacrifice comfort."
The Chameleon's, one-of-a-kind, patent pending, Penta-zip™design is made with five heavy-duty zippers. With all five open the Chameleon lays completely flat. Sit on it, lay on it or best of all suspend it over the Sit-system frame. Users can sit back and relax and keep their gear off the ground and right where they need it. The five zippers also allow people to easily access their gear wherever it is in the pack; top, bottom or in the middle.
With the Chameleon Pack, aesthetic and function don't compromise quality and comfort. The Chameleon will hold up to 36 liters of storage as a backpack and is rated to support up to 300 lbs as a chair and is designed with heavy duty water resistant and abrasion proof nylon. It is water bladder compatible and includes a sleeve- for a laptop or electronics. As extras the pack is also designed with 2 lashing buckles and Molle used in military and tactical packs, so users can attach their desired items to suit individual needs.
The Chameleon Pack will be available to early adopters on Kickstarter for $143, which is 42% off retail. For more information, visit bit.ly/ChameleonKS.
About Trailform
In spring of 2016, Trailform was created by three brothers, Pete, Chris, and Mark Ackerman from Salt Lake City, Utah. Determined to "forge new trails," in life and in the outdoor products industry, their vision is inspired by their passion for the outdoors and their desire to help others make every outdoor experience better, more comfortable and more frequent. Their focus is to avoid compromising function for comfort and aesthetic. That vision is evidenced in their hallmark product, the Chameleon Backpack System, they claim, is "the most versatile outdoor backpack in the world." Trailform's mission is to provide high quality, innovative outdoor products that will simplify and enhance any outdoor experience. For more information, visit http://www.trailform.com.