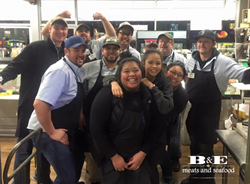 "If you have amazing customer service skills and enjoy delicious food, you are encouraged to seek joining our star team."
Seattle,WA (PRWEB) July 13, 2017
One nostalgic butchery shop, founded in 1958 in the Seattle area by Bob & Earl Green, who are now retired, built up a solid track record as a successful business with happy customers who not only care about where their food comes from, they also appreciate the extra special attention provided to them while shopping. In fact in 2014 B & E Meats and Seafood's customers helped them garner the #1 Best Butcher status in the KING5 Evening Magazine Best of Western Washington contest further cementing their success. Now nearing sixty years in business B & E is training their third generation.
"However, that all said, finding a qualified butcher or meat cutter who can also deliver exceptional customer service to fill a vacant butcher position has become increasingly more difficult over the years," says Jeff Green, Co-owner and Bob Green's son. In fact, B & E Meats and Seafood has been trying to hire a full-time butcher for about three months. And although they have had several part time meat clerks join their experienced butchery team as a result of their recruitment efforts, that included using social media, Craig's list postings, placing signs on their doors, and networking with culinary schools and high schools, no full-time butchers have been hired this year.
"Years ago, we would get dozens of applicants with one posting on Craig's list. Now, the applications are few and far between," adds Green. Their colleagues, who own other local butcher shops at Pike Place Market based in Seattle, are equally challenged by the hiring dilemma, so they agree to collaborate if there is a candidate the other butcher shop can interview that may be a better fit for one or the other.
"The number of butcher and meat cutter jobs in the United States declined from 146,000 in 1997 to 137,000 last year." (Boston Globe, May 18, 2016) With meat cutter jobs declining year over year, butcher shops nationwide can expect increasing difficulty in finding butchers to fill their open positions.
Meat cutters or clerks are trained on the job at B & E Meats and Seafood. Restaurant, food, deli, seafood, or meat market experience are all a plus, but not required because most people applying to work at most butcher shops lack experience in meat cutting. Green believes that if you have the right personality, and are willing to work at a fast pace, he can teach you the rest. Green adds, "If you have amazing customer service skills and enjoy delicious food, you are encouraged to seek joining our star team."
One employee recently wrote a testimonial saying, "Working at B & E is great! The family atmosphere and the teamwork is awesome and it really feels like you are included in every aspect of the business. Not to mention the food is AMAZING."
Green reports, "We pay top wages based on your experience (DOE). Health insurance, retirement plan and paid holidays are included. We are busiest on weekends, so you must be able to work Friday, Saturday, and Sundays. The good news is that we are only open during the day, so anyone wanting to give up a night job, like candidates working for a restaurant or grocery store chain, may be interested in applying. We have both full and part time work available. Applicants must be at least 18 years of age."
Are you an experienced butcher, meat cutter or meat clerk looking for a change? B & E Meats and Seafood is hiring full-time butchers and part time meat clerks to join their exceptional butchery team. Green adds, "If you can deliver excellent customer service, have experience executing merchandising and displays, and can cut meat too, look no further. We are a family-owned business since 1958 and we like to treat our staff like family too."
Candidates can send their resume to: Resume(at)BandEmeats(dot)com. To learn more about B & E Meats and Seafood, visit their website at: http://www.bnemeats.com. Try any one of their four locations in Des Moines, Queen Anne, Newcastle and Burien.
About B & E Meats and Seafood (https://www.youtube.com/watch?v=6xZ6EYsy4wo):
Founded nearly 60 years ago by brothers Bob and Earl Green, B & E Meats and Seafood serves the northwest with the highest quality meats, the freshest seafood including Copper River Salmon, and outstanding marinated products such as Teriyaki Beef Tri-tips, Kalbi Marinated Beef Ribs, Award Winning Beef Jerky, and always delicious Smoked Salmon Candy. After nearly 40 successful years in the meat business, Bob and Earl retired. Bob's son and daughter-in-law, Jeff and Trisha Green took the helm. Together with their daughter, Dena, who joined the family business in 2008, and Steve Dunaychuk, who became a minority partner in 2014, the business has continued to grow thanks to friendly staff and high quality, unique products. B & E was Voted "Best Butcher" in KING5 - Evening Magazine Best of Western Washington contest in 2014. They are currently in the running for Seattle's A-List Best Butcher and Best Fish Market for 2017. Voters can vote at City Voter's website at: City Voter.