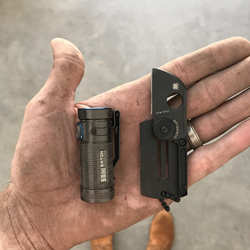 It could easily replace whatever your go-to EDC knife is.
Phoenix, AZ (PRWEB) July 11, 2017
Rhode Supply, a men's gear website committed to showcasing exceptional goods, today announced their July giveaway. The giveaway, which has an everyday carry theme, will include a Spyderco Dog Tag Folding Knife and an Olight S Mini Baton flashlight.
These two products were chosen because of their stellar performance during field tests that the co-founders of Rhode Supply performed when looking for the best everyday carry items.
"The Olight S Mini Baton is ridiculously powerful for its size," said co-founder Dustin Christensen. "We used it for hours on end, testing the light in urban and rural areas and found that it offered more power and brightness than anything else we tested. This thing is a beast."
The dog tag knife from Spyderco was also chosen for its compact performance. Other neck knives the site tested offered sharp edges that held well, but few offered high-level performance in such a small, compact size.
"I used the Spyderco dog tag knife as my everyday carry knife for a few weeks, and quickly realized it's way more versatile than most neck knives," co-founder Aaron Shoemaker said. "It could easily replace whatever your go-to EDC knife is."
Each month, Rhode Supply gives away some of its favorite gear and supplies to those who join the site's free email newsletter. So far, thousands of readers have participated, and last month, a Field Notes bundle was handed out to Steffen Harris of Illinois.
For Shoemaker and Christensen, the monthly giveaways are a way to engage with their readership while offering many people the chance to see and use new gear.
To learn more about July's giveaway and see previous winners, visit https://rhodesupply.com/giveaways/.
Neither Spyderco nor Olight is associated with Rhode Supply or the giveaway; these products were chosen based on the company's internal field tests when finding and reviewing the best keychain flashlights and neck knives for everyday carry.
About Rhode Supply
Rhode Supply was started in early 2017 by two friends who spent so much time looking for quality, lasting goods online that they decided to make a venture of it. They focus on helping readers find classic and innovative goods that are built to last, so that the focus on buying and keeping gear is on sustainable purchases rather than "fast fashion." Learn more about Rhode Supply and their monthly giveaways at rhodesupply.com.