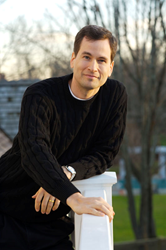 Having David Pogue...attend our Annual Partner Celebration is another strong sign of the changing tides in our company's mindset
Strongsville, Ohio (PRWEB) July 11, 2017
Union Home Mortgage (UHM), headquartered in Northeast Ohio, has rapidly grown to serve home buyers and homeowners across 35 states and the District of Columbia. The distance between branches has not weakened the family atmosphere cultivated over the past 40 years.
"The Annual Meeting is truly a celebration of our culture," explained Bill Cosgrove, CEO and owner of UHM. "It's well worth it – gathering all Partners (employees) from all over the nation in one room for a few days a year to discuss our challenges and our successes. We are honored to have David Pogue this year to expound upon the ever-changing technology world and how it continues to help us move the mortgage industry forward."
Following 13 years as a tech columnist for the New York Times, David Pogue joined Yahoo and founded Yahoo Tech. He continues to serve as Tech Critic for Yahoo Finance. Pogue is also recognized for his regular appearances on PBS' Nova and CBS' Sunday Morning. He has written and co-written a variety of books, including several best-selling For Dummies and Missing Manual series.
Pogue is known for his ability to translate his complex technology expertise into relevant perspectives to advance his audiences' businesses. This October, he will be arriving in Cleveland to share his experiences with UHM Partners.
"It's an exciting time to be a technologist in the mortgage-lending industry," remarked Mark Langhans, Union Home Mortgage CIO. He continued, "In just a few years, the technology focus has shifted drastically from compliance to innovation. Our mission is to bring innovation to our consumers and Partners through convenient, secure technology. Having David Pogue, someone who has dedicated a career to making technology easier to understand and use, attend our Annual Partner Celebration is another strong sign of the changing tides in our company's mindset."
If you are interested in learning more about Union Home Mortgage or how to join UHM's award-winning culture, please visit http://www.UnionHomeMortgage.com.