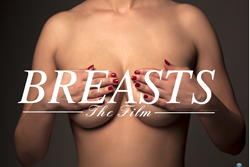 Stories like this don't get told because the women who write them don't get in the room.
New Orleans, La. (PRWEB) July 10, 2017
Full breasts ahead for award-winning actress, Kerry Cahill, who plays Diane on AMC's The Walking Dead. Cahill and her all-female team have reached their fundraising goal for the upcoming short film BREASTS. Cahill, who is starring in and producing BREASTS said, "We're happy we reached our fundraising goal! We talk about putting more women back to work and especially in the film industry. We need to stop talking about it- we have to pull the trigger and do it! So that's one of the reasons it's so important to me- stories like this don't get told because the women who write them don't get in the room. People are happy with breasts on a hot 22 -year -old and its sexy but boobs breastfeeding is uncomfortable. We have become a sterile environment, and babies don't always fit into that and society struggles with that. We are ok with extreme violence on nightly television people killing each other, and that is somehow more acceptable, but people are outraged with a woman who is breastfeeding."
The facts about breastfeeding reiterate the importance of highlighting this issue. Women who pump are often still bullied at work and often forced to quit through attrition or fired for demanding their rights. According to National Institutes of Health (NIH) three-quarters of American women start out breastfeeding, but less than half continue through the first six months. Many mothers cite social pressure as being the reason they stopped.
About the film: A single mother's true story about how her ability to be a good parent (as outlined by her doctor) is handicapped by society- in this case, company policy. She is a mother powerless against a system in which the people of authority leverage a blind obedience to rules, with a complete disregard for common sense or humanity in the interest of self-preservation. It takes a woman who is in no way a victim and makes her one.
In addition to starting production BREASTS proudly announces their partnership with The Mary Amelia Women's Center. MAC was established in 2003 to provide outreach and education for women, children, and families. Cahill said, "Partnering with MAC gives us a way to educate women about the issues with breastfeeding and inform them that they don't have to succumb to pressure. We are honored to use the film as an education tool. It is exciting to think that our creative work helps educate and empower women."
Executive Producer Diana Jackson said, "It's a timely topic in America; women need to vocalize what they need and be comfortable with speaking out as they head back into the workplace. Hopefully, this along with other film and grassroots efforts will lead to change."
About Kerry Cahill: Born in Helena, Montana, Kerry Cahill grew up an army brat in small rural towns of Montana, Oregon, and Texas. Cahill studied Drama at Loyola University New Orleans; the British American Drama Academy Oxford; and Queen's University Belfast, later moving to Chicago to study with Second City, the Profiles Theater, and Rick Snyder. Cahill's film break came under the direction of Werner Herzog in Bad Lieutenant: Port of Call New Orleans. Her film career has continued to gain momentum as she has worked alongside Reese Witherspoon, Paul Walker, Uzo Aduba, and Woody Harrelson. She appeared alongside Jason Clark in Terminator Genisys and had a significant role in the recent Free State of Jones with director Gary Ross and actor Matthew McConaughey. Having filmed projects such as By Way of Helena, Showing Roots, Free State of Jones, and now as a regular on The Walking Dead, Cahill continues her upward climb to A-list status. Recognized as an award-winning actress that plays strong characters, she is striving to become one of the biggest names in Hollywood.
###