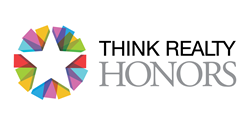 Nominations can be made through July 15 at https://thinkrealty.com/think-realty-honors/.
(PRWEB) July 11, 2017
Think Realty, the industry leader in residential real estate investor resources, education and ethics, recognizes peer nominated investors who excel within their industry niche with the 2017 Think Realty Honors. The awards will be presented at the Think Realty National Conference and Expo, this October in Atlanta. There are ten investor categories in all, including Humanitarian of the Year and Rising Star. Nominations can be made through July 15 at https://thinkrealty.com/think-realty-honors/.
Carole Ellis, the new editor-in-chief of Think Realty Magazine, is overseeing the nominations. Ellis became editor-in-chief in June after being a contributing writer for two years. Ellis has had a lengthy career as an educator and writer in the real estate investing industry, and has specialized in analyzing markets and economies, identifying actionable opportunities for real estate investors.
Said Ellis, "I'm thrilled to be with Think Realty Magazine, as writing for the real estate investing industry has been a long-time pursuit and passion. With Think Realty Honors, we highlight master educators and residential or commercial investors, but we also realize that many investors do valuable, philanthropic work within their communities. If you know of an investor who loves giving back, please nominate them for Humanitarian of the Year."
"I'm pleased that Carole is on our team. She is a fantastic writer and editor, and has a firm understanding of and love for the real estate investing industry. I'm glad that she is overseeing the Think Realty Honors this year," said Eddie Wilson, President of Think Realty. "My personal favorite awards category is Rising Star. It's always great to see a high achieving newcomer, or someone who has been around awhile but is forging a new path with vigor. It's inspiring to the rest of us. If you know of someone who is worthy of being this year's Rising Star, please let us know."
Think Realty is a central education and information resource for new investors and seasoned professionals, providing members with valuable tools that help them to optimize their competitive advantage, succeed in the industry, achieve wealth-building goals and live a life of purpose. Think Realty is part of Affinity Worldwide. More information about Think Realty can be found at http://www.thinkrealty.com; more information about Affinity Worldwide can be found at http://www.affinityworldwide.com.