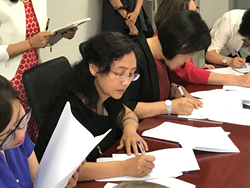 "With our strong leadership and team in Beijing, Give2Asia is looking forward to expanding its impact as a partner of CPAFFC." - Birger Stamperdahl, Give2Asia President & CEO
Beijing, China (PRWEB) July 11, 2017
On June 30, 2017, Give2Asia became the latest overseas non-governmental organization (NGO) to successfully register in China under a new law that went into effect on January 1, 2017. Give2Asia obtained Representative Office registration with the Beijing Public Security Bureau, making it one of the first philanthropic service organizations to have successfully registered under the new law to date.
The Law of the People's Republic of China on the Administration of Activities of Overseas Nongovernmental Organizations in the Mainland of China, known as the China Overseas NGO Management Law, requires all overseas NGOs to get the approval of a professional supervisory unit (PSU) from an officially released PSU list and register anew with public security authorities before conducting activities within China. Give2Asia is pleased to announce that its PSU is the Chinese People's Association for Friendship with Foreign Countries (CPAFFC). Give2Asia will conduct its work in mainland China within the framework of the law and under the guidance and supervision of its PSU.
"Give2Asia serves as a vital resource for building philanthropic partnerships that benefit Chinese society," said Birger Stamperdahl, Give2Asia President & CEO. "With our strong leadership and team in Beijing, Give2Asia is looking forward to expanding its impact as a partner of CPAFFC."
Give2Asia's Representative Office registration names Ms. Xiao Rong as Give2Asia's Country Representative. Under her leadership, Give2Asia in China will partner with Chinese charities on projects in the areas of education, health, environment, disaster management, livelihood, community services, traditional culture preservation, social development, and women and children.
"Give2Asia is honored to have received this registration from the Beijing Public Security Bureau and to be in partnership with the CPAFFC," said Xiao Rong, Vice President, China Country Representative at Give2Asia. "Give2Asia's impact is based on the strong work of its extraordinary Chinese partners. Going forward, we are excited to serve as a responsible and trusted bridge between philanthropists and those in need."
Give2Asia will also provide philanthropic consulting services to international donors and corporations. As an expansion of its role, Give2Asia plans to support overseas exchange programs with the goal of increasing both development in China and regional development in Asia.
Since its founding in 2001, Give2Asia has granted over US$ 300 million in Asia, building a network of over 2,000 grant recipients and 15,000 donors in 25 locations. By building lasting connections between international donors and charitable programs in Asia, Give2Asia has established a long history of fostering trust in and accountability for philanthropy.
Give2Asia has worked in China since its founding, partnering with about 300 local Chinese organizations, including foundations, governmental organizations, NGOs, and universities. Over 880 projects funding US$ 77 million have been supported in China alone. After the 2008 Sichuan Earthquake, Give2Asia raised US$ 16 million towards disaster relief and recovery, making it the second largest donor in the United States.
For additional comments, the following experts from Give2Asia can be reached at:
Birger Stamperdahl, President & CEO
Give2Asia
bstamperdahl(at)give2asia(dot)org
+1 415-967-6330
Xiao Rong, Vice President, China Country Representative
Give2Asia
xiaorong(at)give2asia(dot)org
+86-10-8565 6682
###
About Give2Asia:
Give2Asia strengthens communities throughout Asia by building trusted networks for charitable investment for corporations, foundations, and individual donors. Since 2001, Give2Asia has improved the lives of millions of people in 25 Asian countries by supporting local organizations addressing critical issues such as livelihood, health care, education, and the environment. Give2Asia has a team of local staff, advisors and partners that ensure projects are effective, results are transparent, and grant recipients are accountable.