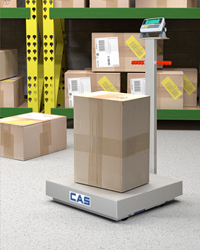 Canton, MA (PRWEB) July 12, 2017
Alliance Scale, Inc. has introduced a portable platform scale that has a battery operated digital indicator and can be easily moved around a facility from the warehouse to the loading dock.
The Alliance/CAS Transit Series Portable Platform Scale incorporates a tubular design with 4-point overload protection and lets users easily weigh or count items virtually anywhere weighing happens. Equipped with an easy to read LCD or LED display mounted on a 40" tall column, this portable scale can be ordered in carbon steel or 304 stainless steel construction.
Suitable for a variety of applications, the Alliance/CAS Transit Series Portable Platform Scale is available with locking 4" poly bonded swivel wheels with roller bearings or 5" USDA/FDA approved Aqualite white plastic swivel wheels, depending upon the model. Capacities are 500 x 0.1 lb. and 1000 x 0.2 lb. with 18" x 24" x 6" or 24" sq. X 6" platforms.
Alliance/CAS Transit TR-Series Portable Platform Scales are priced from $1,450.00 depending upon indicator. Pricing is available upon request.
Alliance Scale, Inc. provides expert scale repair and inspection services across a broad range of commercial and retail applications. They are a value-added distributor for major manufacturers of industrial scales and weighing systems and support and supply a wide range of scales for industrial, commercial, grocery, retail, research, and laboratory applications including software and printers. They sell and service scales ranging from portable pocket scales to counting and portioning scales, bench scales, industrial floor scales, in-motion checkweighers, on-board weighing systems, crane scales, floor scales, mixing and portioning scales, and sophisticated weighing systems for motor homes, trucks and railcars. Alliance Scale also serves the grocery and retail trades directly and offers a complete label service for both stock and custom labels.
For more information contact:
Alliance Scale, Inc.
Raymond A. Secour, Jr., Marketing
1020 Turnpike Rd. / P.O. Box 509
Canton, MA 02021-0509
(781) 828-8386 FAX (781) 828-9510
e-mail: sales [at] alliancescale.com
http://www.alliancescale.com