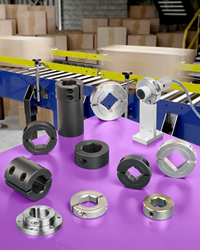 Wilmington, MA (PRWEB) July 12, 2017
Stafford Manufacturing Corp. has introduced a full line of shaft collars, rigid couplings, and mounts for building conveyors with varying load capacities and environmental considerations.
Stafford Shaft Collars, Couplings & Mounts are ideally suited for use in virtually all conveyor systems as stops, spacers, and mounting devices for guides, rollers, sensors, and other structural and mechanical components. Featuring over 4,000 standard parts and extensive custom manufacturing experience, the firm can match specific conveyor system requirements.
Available with smooth, hex, and square bores for use with various types of drive and roller systems, Stafford Shaft Collars, Couplings & Mounts come in 1/2" to 6" diagonal I.D. sizes. Manufactured from aluminum, stainless, steel, specialty alloys, and plastics, in one- and two-piece clamp types and in set-screw styles, they are supplied off-the-shelf or can be custom made.
Stafford Shaft Collars, Couplings & Mounts are priced according to type, material, size, and quantity. Price quotations are available upon request.
Founded in 1975, Stafford Manufacturing Corp. is a leading manufacturer of shaft collars, couplings, and specialized mechanical drive and structural components. Their "Standard Series" features over 300 popular items which are in stock for immediate delivery, their "Signature Series" features premium quality collars and couplings manufactured in the USA, and their "Solution Series" features over 500 problem-solving components for anyone involved in product and system development.
In addition to their over 4,000 catalog parts, Stafford Manufacturing Corp. manufactures problem-solving parts for leading OEMs, contract manufacturers, and industrial distributors. Their well-engineered design solutions can be found in all types of equipment including conveyors, packaging machinery, processing equipment, recreational products, medical instruments, storage systems, and consumer goods. Stafford Manufacturing is ISO 9001:2008 Certified.
For more information contact:
Stafford Manufacturing Corporation
Jim Swiezynski, Technical Director
P.O. Box 277
North Reading, MA 01864-0277
(800) 695-5551 FAX (978) 657-4731
e-mail: jswiezynski(at)staffordmfg(dot)com
Direct link: http://shaft-collars-couplings.staffordmfg.com/category/application-news
http://www.staffordmfg.com