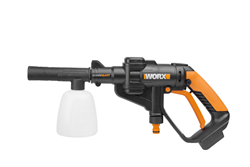 Charlotte, N.C. (PRWEB) July 11, 2017
The new WORX® Hydroshot™ Portable Power Cleaner has added optional accessories to make cleaning tasks easier. Now, users can chose from a cleaning brush, squeegee, soap dispenser, 2-liter bottle cap connector and a turbo nozzle.
Hydroshot is a light duty, portable power cleaner driven by a 20V MAX Lithium battery. The portable power cleaner connects to a garden hose or the included 20-ft., auxiliary hose to draw fresh water from a bucket, pool, lake or river. Hydroshot comes with a five pattern spray nozzle. Use the tool by itself or add the extension wand to wash the car, truck or SUV; rinse the deck and patio furniture; power clean windows or provide a gentle shower to flower and vegetable gardens.
Choose Hydroshot's 7 in. Multi-purpose Cleaning Brush (WA4048, $19.99) for the car, boat, patio furniture and other outdoor-related items. The brush features a quick-connect design and works best at the low power setting.
The 12 in. Window Squeegee's (WA4050, $14.99) quick-connect design snaps into Hydroshot and provides the user with a quick shot of water to enable streak-free window cleaning. The heavy duty, 12 in. window squeegee features an interchangeable blade. The durable aluminum blade cartridge provides reliable streak-free cleaning.
Ready, aim and clean. The 13.5 oz. Soap Dispenser (WA4036, $19.99) with quick-connect end is ideal for cleaning. Use a concentrated soap and water mixture (see soap manufacturers' recommendations) to wash windows, cars, boats, garage floors, patios, patio furniture and for other outdoor cleaning tasks.
Put those empty 2-liter bottles to work with Hydroshot's Bottle Cap Connector (WA4038, $6.99). Just fill the empty bottle with water and connect the cap to Hydroshot and it's ready to go. Use to spot spray plants, flowers, window bug splatters, exteriors of bird houses and more. Fits most 2-liter bottles with 1 in. openings.
The Hydroshot Turbo Nozzle (WA4037, $29.99) with quick-connect end also can be used with conventional gas and electric pressure washers. When used with pressure washers, it has a max rating of 3200 psi at 3.0 gallons-per-minute. This nozzle provides 360° of oscillating water power for efficient spot cleaning results. It's designed to be used with Hydroshot's extension wand only.
Hydroshot has a two-speed trigger that delivers water pressure ratings of 200 to 320 psi for power cleaning (high) and 58 to 94 psi (low, watering). Hydoshot's built-in pump saves water by pumping roughly 1/2 gallon-per-minute. Rotate the multi-head nozzle to adjust spray patterns from 0º, 15º, 25º 40º or shower. Choose gentle shower; then rotate the head for targeted high-powered rinsing. Select the wider spray pattern to remove dirt or pollen from windows or rinse a boat's hull between normal wash cycles. Hydroshot also features a universal quick-connect end to accept other aftermarket pressure washer accessories. Plus, with a max pressure rating of 320 psi, it's safer on most surfaces compared to normal pressure washers.
WORX Hydroshot is powered by a 20V MAX 2.0 Ah battery. This water-resistant battery has an LED power gauge. By pressing the red keypad, the power gauge indicates how many bars are left before the battery needs recharging. The powered water cleaner is part of the WORX Power Share program, which includes other WORX 20V MAX batteries from WORX lawn and garden or DIY tools.
Run time varies, based on the selected operating mode and speed. In watering mode, Hydroshot will run continuously up to 30 minutes.
Hydroshot includes one 20V MAX, 2.0 Ah battery, a 5-hour charger and a 20-ft. auxiliary hose with adjustable bobber. The power cleaner is covered by the WORX 3 year warranty.
The WORX Hydroshot Portable Power Cleaner (WG629, $119.99) is available at Home Depot, Amazon and worx.com. A bundled version, which includes Hydroshot, 20V MAX battery and 5-hour charger plus the 13.5 oz. Soap Dispenser, Multi-purpose Cleaning Brush and 12 in. Window Squeegee (WG629.1, $159.99) also is available at http://www.worx.com.
To reach out to WORX social media links visit: Facebook: https://www.facebook.com/worxus?ref=hl; Twitter: https://twitter.com/WORXTools; Pinterest: http://pinterest.com/worxtools and Instagram: @WORXTools