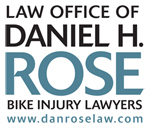 San Francisco, California (PRWEB) July 12, 2017
The Law Office of Daniel H. Rose is sponsoring the San Francisco Bicycle Coalition's (SFBC's) Golden Wheel Awards. This year's event, being held on July 20, 2017 in the Green Room of the San Francisco War Memorial & Performing Arts Center, honors those individuals and groups who are making a difference in transforming San Francisco into a more bicycle and environmentally friendly place.
Specifically honored at the event will be former California State Senator Mark Leno, Executive Director of Livable City Tom Radulovich, and environmental justice project Bicis Del Pueblo. During Senator Leno's tenure in the Legislature, he fought for better schools and access to higher education, foster youth, a cleaner and sustainable environment, single-payer universal health care, improved transportation, renewable energy, safer streets and equal rights for all Californians. As Executive Director of Livable City, Tom Radulovich advocates for better walking, cycling, and transit, more housing, and improved public spaces in San Francisco. Tom served on the BART Board of Directors from 1996 to 2016, and twice as president. At BART, Tom led the effort to eliminate the rush-hour bike blackout and mandatory bicycle passes and championed bike space on trains, secure bicycle parking at stations, and a new access policy that prioritizes walking and cycling as primary access modes for all BART stations. Bicis Del Pueblo provides community space designed for Southeast San Francisco residents to learn, teach and share knowledge on bicycle riding and repair. Bicis Del Pueblo works to encourage and support communities of color to incorporate bicycling in everyday activities that improves the conditions in our neighborhoods, strengthens cooperation, and decreases our dependence on fossil fuel.
The San Francisco Bicycle Coalition (SFBC) has for more than 45 years been transforming San Francisco streets and neighborhoods into more livable and safe places by promoting the bicycle for everyday transportation. They are one of the largest and most effective bicycle advocacy groups in the country. Through their day-to-day advocacy, education and working partnerships with City and community agencies, the SFBC creates safer streets and more livable communities for all San Franciscans.
The Law Office of Daniel H. Rose is a personal injury law firm focused on providing legal representation for San Francisco Bay Area bicycle accident victims, with more than 30 years of experience. Our lawyers are avid bicyclists and support several Bay Area, Sonoma, and Napa bicycling and pedestrian advocacy organizations.
LAW OFFICE OF DANIEL H. ROSE
One Sansome Street, Suite 3500
San Francisco, California 94104
Tel: (415) 946-8900 Fax: (415) 221-0892