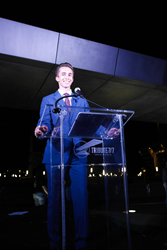 "Our goal is simplistic and pure, we're here to make the world a better place, and inspire others to do the same. Music is a universal language, and we will use it to spread love and kindness in the face of adversity," says Chaouki
Dallas, TX (PRWEB) July 11, 2017
The Dallas Strong Music Festival, a three day festival centered around the fatal 2016 Dallas Police shooting, is set to launch Memorial Day weekend 2018 at the Cotton Bowl in Dallas. The festival, founded by 19-year-old Zak Chaouki, President of Pacific Event Group, is designed to support the Dallas community, while advocating for peace and unity through music, in the face of adversity. Chaouki's mission is to spread love and kindness to bring Dallas and the nation together as one.
10,000 pre-sale discounted tickets will be available for purchase on Wednesday, July 12 via Kickstarter, with the majority of proceeds benefiting Gold Star families, in addition to a broad spectrum of charities across the nation. A line-up of top artists representing the most popular contemporary genres will be announced closer to the date. For more info, please http://www.DallasStrongFest.com.
Comments Chaouki: "Our goal is simplistic and pure, we're here to make the world a better place, and inspire others to do the same. Music is a universal language, and we will use it to spread love and kindness in the face of adversity."
On July 7, 2016, a peaceful protest in Dallas was interrupted by a senseless act of violence that took the lives of four police officers and one DART officer, who were merely defending the safety of the community. They were husbands, fathers and brothers, taken away from their loved ones and the community they so fearlessly served. Chaouki watched as these events unfolded and knew something had to be done to preserve the memory of those who were lost, as well as uplift the spirit and morale of Dallas and the nation. The violence he saw was becoming a devastating reality ingrained in our daily lives - with no sane justification.
Chaouki built the Dallas Music Festival with the idea of uniting people through music, while supporting children and families across the nation who have lost loved ones in the line of duty. He recently spoke at the 7/7 Tribute to lay out his plans. Check it his speech here.
Chaouki is on a dynamic and empowering mission to create a defining charitable music event for our time. The La Crosse, Wisconsin based entrepreneur has traveled tirelessly around the country to set up the festival, meeting with major artist reps, potential national sponsors and non-profit organizations to bring his vision to fruition. The event is designed to appeal to music fans of all ages, featuring performances from superstar artists from the worlds of hip-hop, pop/Top40, alternative rock and country.
The major beneficiary receiving one third of the proceeds, is Angels of America's Fallen, a 501(c) organization dedicated to honoring the legacy of our fallen military and first responders by helping their children grow and develop into strong and successful adults. They directly fund the healthy and developmental activity of each child's choice, which involves a dedicated coach or instructor.
He is currently working on securing another beneficiary; two thirds of the proceeds from the Dallas Strong Music Festival will go to charity.
The Dallas Strong Music Festival is being developed by Pacific Event Group, the LLC Chaouki created for this and future large scale musical endeavors. Pacific Event Group is a Texas based event development company that is built on commercial fundraising for charitable organizations. Its mission is to raise funds for a broad spectrum of charities, and make a positive impact on the world by providing high caliber, meaningful entertainment to communities across the globe.
The Dallas Strong Music Festival is an annual event that will expand its vision to other markets involving different charitable organizations.
Contact: Karen Sundell Lori Lousararian - Hakola
310/854-8167 310/854-8104
ksundell(at)rogersandcowan(dot)com llousararian(at)rogersandcowan(dot)com