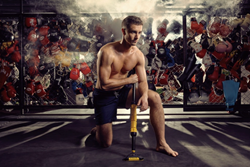 People often don't realize the importance of taking care of the shoulders, which are used in everyday motions that involve pushing, pulling or lifting.
Taipei City, Taiwan (PRWEB) July 11, 2017
RC RELEASE, the world's first self-myofascial release tool specifically designed for the rotator cuff to help and prevent shoulder pain, is live on Kickstarter and raising funds to bring the project to life.
Shoulder pain is commonly seen in sports and fitness training. According to statistics, about 40% of gym-goers have suffered from shoulder injuries and over 70% of them are attributed to rotator cuff problems. RC RELEASE, which means "rotator cuff releaser", was created as a solution to this problem. It is the first product offering thorough self-myofascial release (MFR) for the rotator cuff for shoulder health. Inspired by its founder and inventor's own experience with shoulder pain as a former bodybuilder and backed by sports and fitness professionals, RC RELEASE is an innovative new solution to shoulder care not just for athletes but absolutely everyone.
"People often don't realize the importance of taking care of the shoulders, which are used in everyday motions that involve pushing, pulling or lifting. The shoulders are also the least stable of all the joints in the body, and without proper care, are particularly prone to injury," says founder Hsien-Wen Yu. "Using RC RELEASE contributes towards long-term shoulder health to ensure upper body strength, enhanced posture and injury prevention."
RC RELEASE works by targeting the myofascial trigger points of the rotator cuff to help prevent shoulder discomfort. In order to design the product to specifically target the rotator cuff, the company has been collaborating with sports science professionals, fitness trainers, manipulation therapists and orthopedists on this project.
"We have put in great effort to figure the best structure for RC RELEASE to successfully achieve full myofascial release for the four rotator cuff muscles. This is especially seen in RC RELEASE's mode number one. The internal rotator massager, with its unique structure, offers a revolutionary way to massage the subscapularis that existing massage products simply do not provide," adds Yu. "All other details of the product, including the curve of the hook massager, how the product's material feels against the user's skin, and the patterns on the massage ball and roller, have been carefully thought through in order to make RC RELEASE the best product possible."
The RC RELEASE is currently live and available to support on Kickstarter: http://kck.st/2sYzApH
About RC RELEASE
Hsien-Wen Yu, the inventor of RC RELEASE self-myofascial release kit, was a bodybuilding enthusiast who suffered a subscapularis tear during a competition season. After that competition in 2014, Hsien-Wen decided to design a self-treating tool to provide thorough massage relief for the shoulder joint based on his rehabilitation experience. Now, even though Hsien-Wen has already recovered from his shoulder injury, he still strives for his goal to help others struggling with shoulder pain. He hopes that people who love training, sports, or any kind of physical activity can benefit from the result of all his hard work – RC RELEASE.
For more information on RC RELEASE please visit https://www.rcrelease.com or https://www.facebook.com/RCRELEASE/
###