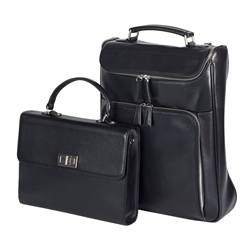 I observe women carrying multiple bags to work, with colors and fabrics mismatched and laptops tossed into large designer totes not designed to carry them. This collection creates a powerful combination of matching style and functionality.
Los Angeles, Calif. (PRWEB) July 11, 2017
Luis Steven, LLC has introduced a modern collection of leather laptop backpacks and totes paired with crossbody bags, that allow women to carry everything they need in matching style. The new Luis Steven line is now exclusively available on crowdfunding website Kickstarter.
The refined looking backpacks and totes are designed to stylishly carry electronic devices and business folders, while the smaller handbag holds personal items, even a small tablet.
"Whether it's for travel, the office or for school, this line represents the perfect mix of beautiful style and modern functionality," said Luis Castaner, managing partner for Luis Steven. "I worked in corporate America for many years with an eye for beauty and fashion and noticed how the needs of professional women are not properly addressed by the handbag industry. This collection really shows my motivation to create a powerful combination of style and functionality to meet the needs of this underserved market."
Lightweight in soft leather, the bags come in black with a suede interior. The backpacks, offered in two sizes, are designed to carry 13-inch or 15-inch laptops. The multipurpose totes feature a top zipper closure and tablet pockets.
"I observe women carrying multiple bags to work, with colors and fabrics mismatched and laptops tossed into large designer totes not designed to carry them," Castaner said. "Women shouldn't have to wear unfeminine nylon, generic backpacks to carry laptops and work documents contrasting with a nice leather purse. My combination allows for weight distribution, plus the smaller handbag can be used for any occasion."
Castaner added that the Luis Steven Collection provides a subtle matching of color and fabric between two totally different bags (backpack/crossbody or tote/crossbody), which creates, "a powerful, stylish, professional looking set of handbags. They become your perfect daily companions."
While the full collection is made for the female professional, Castaner says the larger 15-in backpack's sleek and modern design is ideal for men to "make a fashion statement, as well." The backpack serves as an impressive looking and functional briefcase for laptops and work files for the subway, planes and walking or cycling commuters.
To learn more about the Luis Steven Collection and take advantage of exclusive early-bird discounts during crowdfunding, visit the Luis Steven Collection Campaign Page on Kickstarter.
About Luis Stevens
Luis Steven LLC, founded in March 2001 in Los Angeles, is a designer and wholesaler of quality, multi-function handbags designed to meet the practical demands of a fast-paced, digital generation who want contemporary functionality coupled with fashion. The company name represents the combination of the first names of the original company founders: Luis Castaner, who serves as managing partner, and company supporter and investor Steven Brian. For more information visit http://www.luissteven.com.