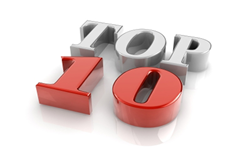 (PRWEB) July 12, 2017
Carnegie Council for Ethics in International Affairs presents the top 10 most downloaded podcasts for its July 2016-June 2017 program year. Topics include Japan and the Philippines; the potential effects of new technologies; and the troubled state of U.S. and global politics.
These podcasts and hundreds more are available on Carnegie Council's iTunes page and can also be accessed on Carnegie Council's website, where they are accompanied by full transcripts and in some cases videos as well, as noted below.
For links to each of these top 10 podcasts on the Carnegie Council website, go to https://www.carnegiecouncil.org/publications/picks/top-10-podcasts-2016-17-carnegie-council-program-year.
1) Japan's Politics: A Move toward Nationalism or more of the Status Quo?
Sheila A. Smith, Council on Foreign Relations
Devin T. Stewart, Carnegie Council for Ethics in International Affairs
(Asia Dialogues, podcast with transcript, July 2016)
2) Interview with Robert Sparrow on Autonomous Weapon Systems and Respect in Warfare
Robert Sparrow, The Australian Research Council Centre of Excellence for Electromaterials Science; Monash University
Adam Read-Brown, Carnegie Council for Ethics in International Affairs
(Ethics & International Affairs Interviews, podcast with transcript, July 2016)
3) What to Make of Duterte's Philippines
John Gershman, NYU Wagner Graduate School of Public Service
Devin T. Stewart, Carnegie Council for Ethics in International Affairs
(Asia Dialogues, podcast with transcript, September 2016)
4) What is Populism?
Jan-Werner Müller, Princeton University; Institute for Human Sciences, Vienna, Austria
Joanne Myers, Carnegie Council for Ethics in International Affairs
(Public Affairs Program, podcast with transcript, November 2016)
5) Islamic Exceptionalism: How the Struggle over Islam Is Reshaping the World
Shadi Hamid, Brookings Institution
Joanne Myers, Carnegie Council for Ethics in International Affairs
(Public Affairs Program, podcast with transcript and video, November 2016)
6) Thank You for Being Late: An Optimist's Guide to Thriving in the Age of Accelerations
Thomas Friedman, The New York Times
Joanne Myers, Carnegie Council for Ethics in International Affairs
(Public Affairs Program, podcast, transcript, and video, January 2017)
7) The Constitution Today: Timeless Lessons for the Issues of Our Era
Akhil Reed Amar, Yale Law School
Joanne Myers, Carnegie Council for Ethics in International Affairs
(Public Affairs Program, podcast, transcript, and video, October 2016)
8) Trump and the Intelligence Community: The View from a Former CIA Analyst
Yael Eisenstat, Kilele Global; Former CIA Analyst
Alex Woodson, Carnegie Council for Ethics in International Affairs
(Podcast with transcript, March 2017)
9) Artificial Intelligence: What Everyone Needs to Know
Jerry Kaplan, CodeX: The Stanford Center for Legal Informatics
Joanne Myers, Carnegie Council for Ethics in International Affairs
(Public Affairs Program, podcast, transcript and video, November 2016)
10) A World in Disarray: American Foreign Policy and the Crisis of the Old Order
Richard Haass, Council on Foreign Relations
Joanne Myers, Carnegie Council for Ethics in International Affairs
(Public Affairs Program, podcast, transcript, and video, March 2017)
ABOUT CARNEGIE COUNCIL
Founded by Andrew Carnegie in 1914, Carnegie Council for Ethics in International Affairs is an educational, nonprofit, nonpartisan organization that produces lectures, publications, and multimedia materials on the ethical challenges of living in a globalized world. Go to http://www.carnegiecouncil.org