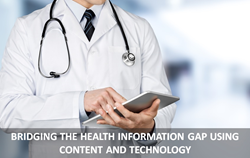 Making right health information accessible to everyone will have a great impact in the long run. It will help us to overcome many other health care challenges.
Bangalore, Karnataka (PRWEB) July 13, 2017
hinfoways, a healthcare company that uses technology to solve healthcare issues, is planning to launch hinfoshare, a global health information platform that bridges the information and communication gap between healthcare consumers and providers.
Today's medical community faces a major deterrent in the form of lack of verifiable information that their patients can access. The biggest problem stems from the fact that health and healthcare related information available online and elsewhere may be incomplete, inaccurate, and irrelevant, thereby impacting the quality of healthcare services, consumers' decision making process as well as the overall outcome. In case of major illnesses such as cancer or tumors, crucial time is lost in the search for useful information by patients. Accurate and early diagnosis, as well as affordable, timely treatment is the need of the hour and for this patients should have access to right information presented in a right way. Although recent technological advancements in the healthcare space have helped bridge this gap considerably by connecting the medical community with consumers and providing relevant information, there's much left to be done.
hinfoways, through its health information platform hinfoshare, aims to improve the quality of healthcare by addressing these problems, saving not only time and money, but also enabling doctors to educate and counsel their patients. The web platform, accessible via smartphones as well as PCs, allows doctors and medical practitioners across the world to make crucial and relevant healthcare information available to their patients anytime, anywhere. hinfoshare has been designed to allow clinical experts to contribute and share pertinent content with their patients, providing them with verified, affordable and in-depth information about their medical condition and the treatment procedures involved. Doctors can answer patients' questions, share diagnosis, and suggest postoperative care, among other things, irrespective of the patient's location or timezone. By leveraging the information provided by treating doctors, healthcare consumers can understand their symptoms clearly, make informed decisions, and stay actively involved in the treatment process.
hinfoshare will be available in a simple subscription service model to the interested healthcare providers in the near future. Founded by Suhas M V and Sandeep Shetty, hinfoshare can benefit the medical community on a global scale by strengthening the doctor-patient relationship and empowering patients through education and engagement.
For more information on hinfoways and the kind of work they are doing to address healthcare issues, visit http://www.hinfoways.com