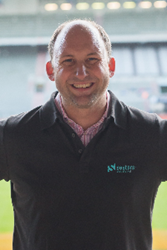 New York, NY (PRWEB) July 12, 2017
June 26, 2017 – Belgian entrepreneur Jean-Sébastien Gosuin, then the principal behind Brussels-based Suseia Sport Hospitality Travel, had just finished a contract with Belgium for all hospitality and travel for the London 2012 Summer Olympics. The experience affirmed his decision to launch a new kind of business: a technology-based, sophisticated way to make access to premium events easier, and to make sure all the trade inventory – especially tickets -- that was available actually got used.
"There were a huge amount of no-shows London," Gosuin remembered, "just as there were for Sotchi 2014, Vancouver 2012 and a host of other major events we handled for a wide variety of clients all over the world. The system we were forced to use in hospitality packaging was out of date and frankly obsolete, and we found ourselves working twice as hard to just break even."
During the next year, Gosuin started researching the category to learn as much as he could about online ticketing and the movement of last minute tickets, and which sponsors handled it best. What he found was a lot of imperfection, and he and some trusted associates started developing a software program that would solve the problem.
"It was time to move on," said Gosuin. He consulted influential Belgian economist Geert Noels (http://econopolis.be/en/author/geertn/) about the best way to launch a new technology-driven software system to make event and ticketing hospitality more efficient for corporate sponsors and major event partners, and Noels advised him to do it in the United States.
"He felt to do this right, I needed the scale of the US market to go global with it," explained Gosuin. "He also felt it would be easier to raise investment capital from there. The fact that more companies that sponsor globally are based here is also a big factor."
Of the $40 billion spent each year on sponsorship, $20 billion originated in the United States. If Gosuin was going to launch what he calls a "technology based solution to create commercial value from corporate sponsor inventory," he needed to move on it quickly. Gosuin started to ramp down Suseia in April 2013 and stopped bidding for new contracts, and had a business plan ready by June, 2013. He incorporated in January of 2014, and moved to New York in August of that year.
His first important alliance in the US was with the Belgian Chamber of Commerce and its president, fellow expatriate Chris Burggraeve. Burggraeve opened many doors for Gosuin but also loved the idea himself and decided to get involved.
"Seaters seemed to be able to solve a problem I had myself as a CMO," explains Burggraeve, the former Chief Marketing Officer of Anheuser Busch InBev. "How to make truly the most out of serious sponsorship investments by fully utilizing all the assets you get – especially tickets -- with each deal. I really wish I had this technology platform back then."
Burggraeve, along with entrepreneur Michel Akkermans, joined the first board of directors early on and were also two of 15 initial seed investors in the first official round of funding in early 2016. Other notable members of the group were Dave Elmore (founder of Sportsmark) and Duco Sickinghe (former Dutch cable CEO and advisor to CVS Capital Partners). Two more rounds of funding followed over the next year and client results proved the point, and Seaters has raised $8 million dollars to date.
Seaters first major client in 2014 was BNP Parribas, Europe's largest bank. BNP sponsors over 300 events a year and was the ideal partner to demonstrate the Seaters platform: first as the ideal compliment to the BNP fan-interactive "We Are Tennis" platform, and more recently to drive its new customer loyalty program in 2016. BNP more than any client to date has shown how state of the art the Seaters platform really is.
"Seaters was the missing link we were looking for to transform tennis fans into new BNP Paribas customers," said Sebastien Guyader, Head of Brand, Corporate Advertising and Sponsorsing.
What makes the Seaters platform a first is its patented "Wish List" software which is controlled by event sponsors. The sophisticated nature of the software allows the sponsor to manage its inventory and target ticket recipients by category – employees, customers, clients and strategic partners – while keeping the users totally informed on the other end. The Seaters customized "Likelihood Algorithm" -- part of its patent -- will show users the probability of getting a ticket in order to manage expectations.
"When started, I though empty seats was the corporations issue, but we came to learn that tickets were really just a means to an end for our clients," explains Gosuin. "Tickets just provided an excuse to start or develop a relationship, and once you signed people up you could keep them engaged not only with ticket opportunities on an ongoing basis, but with other content."
The initial success of the BNP deal lead to KPN (the Netherlands' largest sponsor of events) signing on, Coca-Cola, and some local leagues in Europe. KPN activated 250,000 customers and was a huge hit both internally and with customers.
"Seaters takes a lot of the hassle away from the staff people in charge of our tickets," explained Mark Versteegen, KPN's Head of Sponsorships. "We are now putting all of our tickets into the platform Seaters customized for us."
In the last year the client list has taken off and includes Adecco (an upscale temporary staff platform), Adidas, AG Insurance - Memorial Van Damme), Tissot, KPMG, Sherwin Williams and others. The event inventory covers dozens of international events, whatever the clients decide to partner with, from the Tour De France to NASCAR, MSG properties and events, Rio 2016, the French Open and the US (Tennis) Open., among many others.
"When I explain Seaters to someone for the first time, there can be some confusion," said Gosuin. "We are not Stub Hub --- if you're a user, you don't even know you're on our platform. You are on our clients' branded website or cell phone app, and you're working directly with them. It's a classic B-to-B tool built for our times."
Gosuin and his team have learned a few key things in the first three years of product development and in a sense testing the platform with their early clients. "We do three things really well," he explained. "Our platform helps clients qualify leads, acquire new customers and increase loyalty among both new and longer term customers. And it's totally adaptable to each clients needs and priorities."
###
About Jean-Sébastien Gosuin, Founder of Seaters
Jean-Sébastien Gosuin is a sport and event marketing entrepreneur with over 17 years of extensive experience in the international industry. He found Suseia, an Action Marketing & Events firm, in 2003, and a separtate division, Suseia Hospitality Travel (SHP), in 2009 and ran both companies until he left to launch Seaters in 2013. Suseia created, financed and ran events such as the Volkswagon Big Air Antwerp 2012, Electrabel Kite & Surf Festival (2006-2008) and several other events. Suseia was the official agency for Francorchamps F1 Grand Prix (2007-2008), the Beijing 2008 Summer Olympics (for Belgium), the Torino 2006 Winter Olympics (for Belgium) and others. SHP was involved with a long list events including all Olympics events since Vancouver 2010, FIFA World Cup/Brazil 2014, Roland Garros (2011-2013), Sotchi 2014 Olympics, grand cycling tours such as La Vuelata and Tour de France and many others. He launched Seaters in June of 2013.
Richard Matthews
(203) 853-7095
Richard(at)mattmedia.com