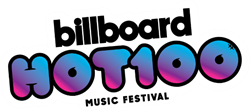 New York, NY (PRWEB) July 11, 2017
Music Choice, the multi-platform video and music network, is teaming up with Billboard, the world's largest voice in music, as the official music partner for the 2017 Billboard Hot 100 Music Festival taking place August 19-20, 2017 at Northwell Health at Jones Beach Theater just outside New York City. The strategic partnership will align both brands to highlight Billboard Hot 100 artists including Demi Lovato, DJ Khaled, and Camila Cabello.
Now in its third year and spanning multiple genres, from pop and rock to R&B and dance, the Billboard Hot 100 Music Festival is one of the most electrifying and diverse festivals. Electronic music innovators Major Lazer, hip hop superstar Big Sean and pop/dance music chart-topper and Grammy Award-winner Zedd are set to headline this year's festival, which will also feature performances from powerhouse talent including Bebe Rexha, Camila Cabello, Marshmello, Rick Ross, special guest Demi Lovato, DJ Khaled, Gucci Mane, Echosmith, Capital Cities, Tinashe, T-Pain, Lil Yachty, Ty Dolla $ign, Young Thug, Waka Flocka and more. Organizers today revealed the daily line-up with Zedd and Big Sean headlining on Saturday, August 19, while Major Lazer closes out the festival on Sunday, August 20. Tickets, including the just-released single day tickets, can still be purchased at http://www.livenation.com.
Starting today, Music Choice will promote the Billboard Hot 100 Music Festival across all of its platforms:

Music Choice On Demand will serve as the On Demand destination for music videos and playlists highlighting festival performers in the "Featured" folder. Post-festival, this folder will include exclusive backstage interviews with festival artists.
Hit List Music Channel will be co-branded as Hit List: Billboard Hot 100 Music Channel, and will feature music from festival artists along with specialized facts onscreen.
Music Choice Hit List Video Channel will also be co-branded Hit List: Billboard Hot 100 and feature streaming music videos showcasing festival artists.
In addition to Billboard Hot 100 Festival programming, Music Choice will be hosting a national sweepstakes giving away 10 tickets to the Billboard Hot 100 Festival on its social media accounts.
Throughout the festival weekend, Music Choice will be on the ground giving fans an up close and personal view of the festival with live postings on its social media platforms, as well as a special Music Choice Facebook Live Studio, where artists will be interviewed. Content will appear on the Music Choice Facebook page, as well as Altice.
Get tickets including 2-Day and Single Day Tickets now for the Billboard Hot 100 Music Festival at http://www.hot100fest.com.
Get Music Choice on all your devices, and find out more at app.musicchoice.com
About Billboard
Billboard is the world's largest voice in music, built on the most complete and well-respected database of charts across all music genres. The Billboard charts define success in music. From the iconic Billboard magazine to Billboard.com, the ultimate consumer-facing destination for millions of passionate music fans, to the industry's most elite conference series and influencer events including the Power 100 and Women in Music – the Billboard brand has unmatched authority among fans, artists and the industry alike. Billboard has a social media footprint of 15.4 million social followers across Facebook, Twitter, Instagram, and YouTube, and created 86.9M cross-platform video views in Jan. 2017. Billboard magazine has published major news-generating covers recently including Ariana Grande, The Chainsmokers, Nicki Minaj, Future, Selena Gomez, Fifth Harmony, Migos, Justin Bieber, and an open letter to Congress signed by 180+ of the music industry's biggest stars and executives. In December 2016, the Billboard Women in Music ceremony, which honored Madonna as Woman of the Year, was presented to a mass audience via Lifetime, the exclusive broadcast partner. In 2016, The Hollywood Reporter-Billboard Media Group acquired SpinMedia's storied music assets Spin, Vibe, and Stereogum, establishing the world's largest music brand by digital traffic, social reach, and audience share. Combined entity of music and entertainment properties now reaches 45 million unique visitors and one in every three U.S. millennials.
About Music Choice:
Music Choice, the multi-platform video and music network, delivers its music programming to millions of consumers nationwide through their televisions, online and mobile devices. Music Choice programs dozens of uninterrupted music channels; produces originals that feature today's hottest established and emerging artists; offers thousands of music videos
Contacts:
Josefa Paganuzzi, Music Choice, jpaganuzzi(at)musicchoice(dot)com, 646-459-3357
Luke Carron, Billboard, luke(at)high10media(dot)com, 212-918-2042