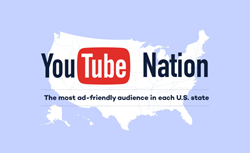 Looking at engagement levels among different affinity audiences throughout the U.S. is a good exercise for YouTube advertisers.
CHICAGO (PRWEB) July 11, 2017
When it comes to YouTube advertising, thrill seekers and cooking enthusiasts are the leading audiences in most U.S. states, according to new data from Strike Social, the world's largest YouTube ad optimization company and a global leader in social media advertising.
According to Strike Social's "YouTube Nation" report, which analyzed YouTube ad viewership at the state level, thrill seekers represent the audience group with the highest engagement rate in most U.S. states. Twenty states plus the District of Columbia registered higher view rates for YouTube ads targeted to this category, with Nevada (32.1 percent VR), Minnesota (31.6 percent VR) and Nebraska (also 31.6 percent VR) coming in at the top three.
Cooking enthusiasts were the second most ad-receptive audience on YouTube, equaling about a third of the U.S. Washington (70.8 percent VR), Arkansas (68.3 percent VR) and Connecticut (67.6 percent VR) made up the top three states with the highest view rates in this category.
"Looking at engagement levels among different affinity audiences throughout the U.S. is a good exercise for YouTube advertisers," said Jason Nesbitt, VP, Media & Agency Operations at Strike Social. "Our findings challenge a lot of preconceived notions and should compel agencies and brands to push the limits on who exactly to target."
Some of Strike Social's most noteworthy findings include:

New York stands out for nightlife enthusiasts, with a view rate of 30.3 percent.
Montana is an outlier for comics and animation fans, with a view rate of 29.9 percent.
Utah and Alaska are the top pet-lovers states, with view rates of 31.4 percent and 30.4 percent, respectively.
Iowa, Maine, New Hampshire, West Virginia and Vermont — some of the most rural states — have the most highly engaged mobile enthusiasts.
Delaware, North Dakota and South Dakota boast a solid base of fashionistas.
To determine each state's most highly engaged affinity audience, Strike Social examined 31 interest categories across 1,000 YouTube advertising projects in the U.S. over the course of 2016. A view rate shows how many people watched an ad and consists of the number of times a video ad has been viewed, divided by the number of impressions.
To access Strike Social's YouTube Nation report and infographic, click here.
About Strike Social
Strike Social harnesses the power of artificial intelligence to drive the best outcomes in paid social and YouTube advertising. Through media-buying software and service, Strike manages 15,000+ campaigns each day for the world's leading agencies and brands, including Beats, Xbox, Honda, Mattel and KFC. With global operations, Strike is headquartered in Chicago. Learn more at strikesocial.com.