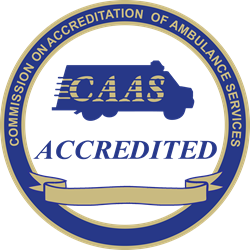 AMT is committed to the highest standards in the delivery of health care to every community it serves.
Peoria, IL (PRWEB) July 13, 2017
Advanced Medical Transport of Central Illinois (AMT) is pleased to announce that it has achieved another national accreditation from the Commission on Accreditation of Ambulance Services (CAAS). Accreditation signifies that AMT has met the "gold standards" as determined by the accrediting body. CAAS standards are essential prerequisites for a "best practices" emergency medical services provider.
The Commission's independent review of AMT's organizational performance, vehicles and equipment, community engagement, and patient clinical standards validates that the Company is adhering to the highest standards in the Emergency Medical Services industry. Accreditation by the Commission assures communities that AMT meets all national performance benchmarks while delivering high quality care to patients and their families.
In 2002, AMT was the first agency in Illinois to attain "gold standard" status for emergency medical services and has consistently maintained its national accreditation status since then. AMT is one of only 3 ambulance services in Illinois to be accredited and is the only one outside of metro Chicago, IL.
"AMT is committed to the highest standards in the delivery of health care to every community it serves," stated Dr. George Hevesy, Chairman, Advanced Medical Transport Board of Directors. "Accreditation from CAAS recognizes the on-going efforts of the entire team of dedicated professionals and helps them identify opportunities where they can better serve citizens. This process has affirmed that AMT is a high performing EMS agency providing state-of-the-art services in the communities we serve."
"CAAS accreditation is a significant achievement," stated Dr. Matt Jackson, EMS Medical Director, Peoria Area Emergency Medical Services. "Accreditation signifies AMT has met or exceeded the most stringent national standards in all areas, most importantly in the area of patient care, assuring patients and the community that AMT provides quality, compassionate patient care."
AMT responds to more than 65,000 calls annually and receives an "outstanding" or "excellent" rating on 98.7% percent of patient satisfaction surveys. AMT's mobile fleet is host to 55 advanced life support ambulances and 300+ paramedics and EMT's, serving 65 communities.
ABOUT ADVANCED MEDICAL TRANSPORT
Advanced Medical Transport (AMT) is the premier provider of emergency and scheduled ambulance services in Central and Western Illinois, as well as parts of Iowa. AMT is a private, not-for-profit organization operated for community benefit and governed by a Board of Directors. AMT's mission is to deliver consistently outstanding healthcare transportation service and value. AMT continues to be a nationally acclaimed regional healthcare provider of choice who values being: Compassionate; Accountable; Respectful; Ethical; and Sustainable.
ABOUT COMMISSION ON ACCREDITATION OF AMBULANCE SERVICES
The Commission on Accreditation of Ambulance Services (CAAS) is a not-for-profit organization that was established by the EMS industry to encourage and promote quality patient care in America's medical transportation system. Based initially on the efforts of the American Ambulance Association, the independent Commission established a comprehensive series of standards for the ambulance service industry. CAAS accreditation signifies that an ambulance service provider has met the Gold Standard of Care deemed by the industry to be essential in the delivery of a modern EMS system. CAAS accredited agencies must adhere to strict industry standards that often exceed state and local requirements, and are reviewed on an ongoing basis to ensure compliance with the standards. Accreditation increases clinical, operational and safety performance while decreasing risk and liability to the organization.