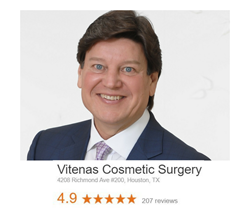 Houston,TX (PRWEB) July 11, 2017
The staff at Vitenas Cosmetic Surgery is proud to announce that practice founder, Paul Vitenas, MD, FACS, has exceeded 200 positive reviews on Google. This momentous milestone shows Dr. Vitenas' deep commitment to patient safety and satisfaction, as well as his strong collaboration with his team of well-trained, aesthetic staff. Dr. Vitenas currently has the most Google reviews of any single plastic surgeon in the United States.
Social media is changing the way patients give plastic surgery recommendations. A recent study from the Boston-based tech company, Nuance, showed that more than 54% of Millennials use online reviews to choose a doctor. Online review platforms allow patients to quickly share their opinions about recent procedures. Anonymity means that while satisfied patients will open up about their positive experience, disgruntled clients also leave their negative opinions. For this reason, cultivating a high number of positive, 5-star ratings can be considered a grand measure of success.
For Dr. Vitenas, customer reviews are more than a business marketing tool, they are a reflection of what his practice is doing right, and what needs improving. Over the last 30 years, patients have come to expect safe and satisfying surgical outcomes from Vitenas Cosmetic Surgery. Dr. Vitenas brings not only quality work, but an unmatched level of compassionate patient care. Dr. Vitenas' testimonials expose his kind, professional bedside manner and the ability to expertly restore proportionate, natural-looking results.
Safe, personalized medical care is at the core of every satisfied patient. Dr. Vitenas explains, "Plastic surgery is a personal and intimate experience. The rapport that develops between the physician and patient needs to be based on trust and open communication." He continues, "We feel every patient in our practice is special." Many of Vitenas Cosmetic Surgery's online reviews also mention the accommodating staff members: "Dr. Vitenas and his staff are truly amazing!", "I absolutely love Dr. Vitenas and his staff!", "World class doctor and awesome staff!" Dr. Vitenas continuously curates one of Houston's most renowned aesthetic teams, as he understands it takes supportive, well-trained staff to ensure patients have a smooth experience.
Vitenas Cosmetic Surgery was founded by Dr. Paul Vitenas in 1991, after graduating from Tulane University Medical School in New Orleans. Specializing in breast augmentation, liposuction, facial rejuvenation, and body contouring procedures, such as CoolSculpting, Dr. Vitenas is committed to providing proportionate, natural-looking surgical results. Dr. Vitenas is board certified by the American Board of Plastic Surgery, with close to 30 years of experience, making him one of the country's most highly sought after cosmetic surgeons.
.
To learn more, Dr. Vitenas' reviews can be found on Google, RealSelf, and Vitenas Cosmetic Surgery's website. Get additional information about Dr. Vitenas' work, and the procedures available from Vitenas Cosmetic Surgery, by calling the Houston office at 281.484.0088. Interested parties are also encouraged to fill out the online Contact Us form.