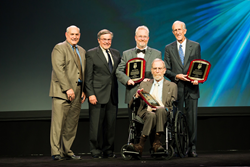 SAE International announces it honors three with the 2016 John Melvin Motorsports Safety Award.
WARRENDALE, Pa. (PRWEB) July 11, 2017
SAE International announces it honors three with the 2016 John Melvin Motorsports Safety Award.
Robert Hubbard, PhD, retired professor at Michigan State University, James R. Downing, President, Downing/Atlanta, Inc. and Hubert Gramling, motorsport safety consultant, received the award during the WCX 17: SAE World Congress Experience in Detroit.
Established in 2016, this award honors individuals, organizations or teams (both SAE members and non-members) whose research and/or practical application represents unique, original concepts that, when applied to motorsports, cause significant positive change and elevate safety to new levels of innovation, in the memory of Dr. John Melvin.
Dr. Hubbard and partner, James Downing, invented the Head and Neck Support Device - more commonly known as the HANS Device - which has been credited with saving the lives an untold number of racers by reducing the likelihood of head and neck injuries. He has extensive experience as a biomechanical crash engineer, including time spent at General Motors' auto safety program.
Downing owns and operates Downing/Atlanta, Inc., which houses his racing operation, a machine shop, composites shop, fabrication shop, engineering and design studios. He has 40 professional racing career victories and five IMSA championships. In 1981, recognizing the need for head and neck safety in racing, he and Dr. Bob Hubbard invented the first HANS device; it became available in 1991. The two sold the business in 2012 to Simpson Performance Products and Downing now owns Lanier Raceplex in Braselton, Ga.
Gramling worked as employee of the Mercedes Benz Research Department and later as freelance consultant for the FIA and FIA Institute for Motor Sport Safety for nearly 20 years. Some of the safety projects he worked on included HANS and other Frontal Head Restraints, Airbag for Formula One, High Speed Barrier, Debris Fences, Wheel Tethers, and many more. In addition, he served on three FIA Institute Research Group for Open Cockpit, Closed Car, and Karting Safety
SAE International is a global association committed to being the ultimate knowledge source for the engineering profession. By uniting over 127,000 engineers and technical experts, we drive knowledge and expertise across a broad spectrum of industries. We act on two priorities: encouraging a lifetime of learning for mobility engineering professionals and setting the standards for industry engineering. We strive for a better world through the work of our philanthropic SAE Foundation, including programs like A World in Motion® and the Collegiate Design Series™.