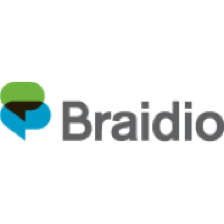 Los Angeles, CA (PRWEB) July 13, 2017
Braidio, a social learning platform for sales enablement and talent development, today announced that it will be exhibiting at GENBAND™ Perspectives17 Annual Customer and Partner Summit, held July 16 - 20, 2017 at the JW Marriott L.A. LIVE, in booth # 18. Perspectives17 brings together the brightest minds in the communications, software, service provider, channel partner and enterprise communities to share the latest trends, issues and opportunities affecting the communications landscape.
In today's workforce, the majority of formal learning is siloed from informal learning. Learning is top down and unilateral, and informal learning content remains isolated and trapped at the employee endpoints. Braidio provides a solution that is built into the everyday workflow, keeps companies agile to adapt to market shifts, and with changing workforce demos, can easily be weaved into the fabric of any type of business.
"Braidio is thrilled to be exhibiting at Perspectives17 this year. GENBAND has been an excellent partner to Braidio, and together we have integrated real-time communications capabilities powered by GENBAND's Kandy Platform, delivering agile social learning and mobile training for enterprise workforces across the globe," said Iain Scholnick, Founder and CEO of Braidio. "We are excited to continue this partnership in the years to come, with many exciting updates in the near future."
Perspectives17 includes a comprehensive agenda filled with activities and entertainment and featuring top-tier keynote speakers and panelists from around the world. The conference also features a Solutions Showcase highlighting the latest products, solutions and innovations from GENBAND and its global ecosystem of technology partners. Decision makers and influencers from around the world will be in attendance at Perspectives17.
"We are excited to have outstanding companies such as Braidio as a Perspectives17 sponsor," said Bita Milanian, Senior Vice President of Global Marketing at GENBAND. "It is the support of great partners like Braidio that really make Perspectives possible. With this year's new venue and great line-up of speakers and panelists this promises to be our most successful event yet."
Braidio Founder and CEO Iain Scholnick will also be presenting in a breakout session titled, "Marketing Tools & Resources for Partners and Service Providers" on July 20th at 10:00 am. The session will cover the way knowledge moves through an organization, from formal to informal, and how social learning and real time communications can blend together to create a just-in-time learning experience.
To learn more about incorporating Braidio's platform into your business, please visit https://www.braidio.com/partners-program.
About GENBAND
GENBAND empowers its global base of more than 700 customers in more than 80 countries to succeed via its technology leadership and intellectual property in network evolution and cloud based real-time communications software solutions and services. With networks increasingly moving to virtualized environments, service providers, enterprises, independent software vendors, systems integrators and developers globally are leveraging our innovative solutions for rapid communications service and application creation. GENBAND's market-leading portfolio, including its award-winning Kandy communications Platform as a Service, enables this transformation and delivers a comprehensive set of advanced embedded communications capabilities including voice, video, messaging, chat, presence and more, facilitating business, consumer and IoT solutions deployments with enhanced end-user collaboration experiences. GENBAND's Marketing Advantage Program provides comprehensive support to fuel our partners' success with our solutions. To learn more visit genband.com.
GENBAND, the GENBAND logo and icon are trademarks of GENBAND.
Company Contacts:
U.S. Press:
Dennis Watson
GENBAND
+1 (972) 521-5921
Dennis.Watson(at)genband(dot)com
International Press:
Catherine Berthier
GENBAND
+1 (646) 741-1974
Catherine.Berthier(at)genband(dot)com
Analysts Relations:
Michael Cooper
GENBAND
+1 (708) 383-3387
Michael.Cooper(at)genband(dot)com
About Braidio
Braidio's cloud-based Social Learning Platform works the way knowledge actually flows through an organization. Our approach enables your employees to organically integrate learning into their daily workflow while allowing the employer to build and monitor learning metrics. As a result, Braidio advances your business with sales enablement and employee development tools that employees will actually use, at a fraction of the cost of traditional (and under-utilized) training tools. With customers ranging from Fortune 100 enterprises to SMBs, Braidio provides a solution that is affordable, scalable and effective regardless of whether you have a few employees or offices around the globe. For more information, please visit braidio.com or follow us on Facebook and Twitter.