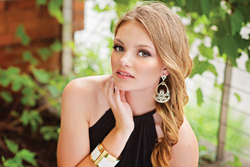 My experience with ET has guided me towards becoming a voice for those with ET in need.
Grand Rapids, MI (PRWEB) July 11, 2017
The International Essential Tremor Foundation (IETF) is pleased to award a $1,000 scholarship to student Allison Dyke from Grand Rapids, Mich., for the 2017-2018 academic year. Dyke is one of four students from across the nation to receive a scholarship award from the IETF.
Dyke was diagnosed with essential tremor (ET) at the age of 4. The struggles of tying her shoes, zipping her coat or eating without making a mess were daily chores. Then came school when she realized she wasn't like other kids. "Being misunderstood makes you an easy target for bullies and this is where my true journey began," Dyke said. In an effort to boost her confidence, her parents signed her up for sports. The physical activities were just too challenging for her tremor until she found swimming where she was able to gain control over her movements.
She began excelling at swimming and decided to compete in pageants to boost her confidence even more. She served as State Representative at Miss Great Lakes State and competed in the National American Miss Awards, winning her Top Model and Best Resume awards. With her growing confidence, she began to make her mark in her community. Dyke was swim instructor at her community pool and volunteered at Mel Trotter Ministries where she led group activities and provided childcare for families in need.
She has been vital to raising awareness for the IETF by organizing and leading two ET awareness walks, raising over $2,500. She partnered with Spectrum Health to create an ET support group for West Michigan and worked with the University of Michigan School of Dentistry to create a prototype to help make oral care easier for those with movement disorders. She was featured in the January 2015 issues of Tremor Talk magazine for her awareness efforts.
As an incoming freshman at Kuyper College, she plans to obtain a degree in communications to help spread the word about essential tremor even more. "My experience with ET has guided me towards becoming a voice for those with ET in need," Dyke said. "ET does not define me. It's part of what drives me to advocate for others and break stereotypes."
Essential tremor is a neurological condition that affects more than 10 million Americans. ET causes rhythmic shaking of the hands, head, and voice. ET is often misdiagnosed as Parkinson's disease, although eight times more common. ET is characterized by action tremor, making everyday tasks such as eating, drinking, and writing difficult if not impossible. There is no cure for this life-altering condition.
IETF scholarships are awarded to qualified students of all ages who have been diagnosed with ET, to lessen the burden of higher education. The scholarship can be used for supplies, books or tuition at licensed, accredited institutions of higher education (including trade schools) and are paid directly to the educational institution. For more information about the IETF scholarship program, please visit http://www.essentialtremor.org/about-the-ietf/scholarships.
About The International Essential Tremor Foundation:
Headquartered in Lenexa, KS, and founded in 1988, the International Essential Tremor Foundation is the leading organization in the world dedicated to those affected by essential tremor. The mission of the IETF is to fund research that will find the cause of essential tremor and lead to better treatments and a cure, increase awareness about ET, and provide educational materials, tools and support to healthcare providers, the public, and those directly affected by ET.
The IETF has distributed more than $750,000 in research grants, to fund numerous promising studies, in the search for the cause of ET. The Foundation has hosted numerous community awareness events across the U.S. to provide those affected with the basic knowledge necessary to become their own advocate when seeking treatment. And, the IETF also provides assistance to a vast network of support groups around the world. To learn more about essential tremor and the IETF mission, visit the IETF website at http://www.essentialtremor.org.