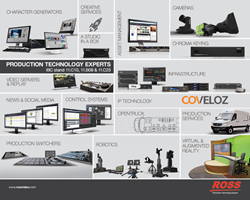 Ottawa, Ontario, Canada (PRWEB UK) 12 July 2017
Since Ross Video's inception in 1974, the company has continued to evolve to address the ever-changing expectations and requirements of the video production industry with smart solutions - delivering studio quality at a cost-effective price. Founded on its disruptive production switcher technology, Ross now offers the widest smart production portfolio in the business with 20+ offerings from robotics to routers to VR/AR and beyond. In the company's 25 years of consecutive growth, Ross has made 12 acquisitions and received 45+ awards including an Emmy for Technology and Engineering. As well, the company has built an impressive global client footprint across 100+ countries on six continents, supported by offices in London, Singapore, Ottawa, Australia, and elsewhere.
Today, Ross Video has installed more than 235,000 assets for clients across 8 vertical markets including news, sports, entertainment, government, education and corporate. Here's what some of Ross' customers have to say:
"When an executive or CEO or board is really wanting to see a certain type of result or a certain type of ROI, you can bring Ross into these types of conversations," Joseph Maar, Vice President of Programming & Production/Executive Producer, NESN, USA.
"I love Ross because (they) have the brilliant ability to go into our proposition, have a good look at what we need and what would be best for us. It has been perfect," Vagn Petersen CEO, TV2 ØST, Denmark.
To learn more about Ross Video and the smart production solutions the company delivers for customers around the globe, visit Stand 11.C10 at IBC2017 or contact solutions(at)rossvideo(dot)com.
About Ross Video
Passionate about live production, Ross Video designs, manufactures and delivers dependable technology and services that power exceptional live video productions seen by billions of viewers around the world every day. Ross Video's goal is to make it easy for customers to create compelling news, weather and sports broadcasts, engaging material for sports stadium screens, legislative assemblies, entertainment shows and rock concerts, and inspiring content for houses of worship.
Relentlessly innovating, Ross Video delivers the world's widest range of products and services for augmented reality and virtual sets, mobile live-event solutions, real-time motion graphics, robotic camera systems, social-media management, production switchers, routers, infrastructure products, video servers, newsroom systems, terminal equipment and more.
Ross products and services are designed to offer best-in-class system integration and unmatched customer choice by both working together seamlessly and integrating tightly with third-party solutions.
Ross Video has offices around the world, and provides free-for-life telephone support staffed by technical experts 24 hours a day, 365 days a year—even for products bought on eBay. Recognizing the time-critical nature of the broadcast industry, all Ross employees are empowered to provide "whatever it takes" customer service, even down to renting helicopters when necessary to deliver needed parts and service.
Ross Video: The Production Technology Experts. http://www.rossvideo.com.
Ross Video Media Contact:
Sara Bell
Media Relations Specialist
Tel: +1 613-652-3020
Email: sbell(at)rossvideo(dot)com
Twitter: @ross_video
http://www.rossvideo.com
Ross Video Media Contact – EMEA:
Stuart G. Russell
EMEA Marketing Manager
Tel: +44 7827 019494
Email: srussell(at)rossvideo(dot)com
Twitter: @ross_video
http://www.rossvideo.com
Ross Video Media Contact – Asia Pacific:
Vivian Yu
Marketing & Operations Manager, Asia Pacific
Tel: +65 9827 3531
Email: vyu(at)rossvideo(dot)com
Twitter: @ross_video
http://www.rossvideo.com