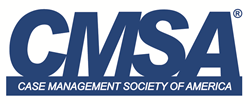 Little Rock, AR (PRWEB) July 12, 2017
The Case Management Society of America is proud to announce the recipients of two prestigious awards, which were presented at the 27th Annual Conference & Expo in Austin, Texas in June 2017.
The 2017 Case Manager of the Year is Ellen Aliberti RN, BSN, PHN, CCM, MS. Ellen has worked in many healthcare settings in various leadership roles for over 30 years with a reputation of passion, drive, motivation and most of all energy and advocacy.
She is a certified case manager, and the clinical educator for DaVita Healthcare Partners Nevada, where she is responsible for both medical assistants and nursing staff clinical education training. Ellen has worked collaboratively with the care management leadership within her organization to develop a more robust assessment and care planning platform. Ellen is the founding president of the Case Management Association of Las Vegas, where she was instrumental in building the professional case management community through her passion of teaching, educating and supporting the case managers.
Over the last couple of decades, she has also served with other organizations, including the Practice Change Fellows, a national organization focused on mentoring new leaders in geriatric care; the Robert Wood Johnson Foundation-sponsored HMO workgroup on case management; and the March of Dimes. Through the South Nevada Chapter March of Dimes she received the Nurse of the Year in Managed Care and the Nurse of the Year in Education. She serves as the Chair for the March of Dimes Nurse of the Year Committee, and as a member of the CMSA's editorial board. Ellen is a prolific writer and has published and/or contributed to several articles, white papers, as well as a CCM study course.
Ellen stated the following about the honor of her award: "Receiving the CMOY award from CMSA was a true honor, and reaffirmed my lifelong passion for case management. I owe a lot of gratitude to CMSA to both the leadership and members at large for sharing their wisdom and experience with such transparency, and providing case managers with a collective voice."
The 2017 Award of Service Excellence recipient is Patricia Noonan RN, MBA, CCM. Pat recognized early on in life what a wonderful opportunity it is to be able to support, educate, and collaborate with patients and their caregivers, while working closely with team members to improve patients' quality of life.
Patricia is the director of network care management at the Lahey Clinical Performance Network, where she supports the LCPN Accountable Care Units in achieving quality and efficiency for the ACO and Commercial Risk contracts. Her role includes network care management program development and standardization while working with leadership to provide efficient, high quality care across the health care continuum for the high risk program population.
Her career, which spans almost 40 years, is based in nursing over various clinical settings until she transitioned into case management. From there she challenged herself and moved up the leadership ladder where she advanced transitional and ambulatory case management roles. Pat earned her certification in case management (CCM) in 2004, completed a bachelor of science degree in 2006, and went on to secure a master's degree in Business in 2009. She also achieved a certificate in Guided Care Nursing from the Institute for Johns Hopkins Nursing in 2013.
Patricia's passion does not stop within her work with the patients. She has written and secured grant funding to establish an enhanced care transitions program. She has presented on many topics including public policy and advocacy, multistate licensure, the Case Management Model Act, the Patient-Centered Medical Home, enhanced care transitions, ACO care management programs, and dementia care. Her expertise spans across several areas of professional case management programs, support and education.
In her own words, Patricia had the following to say about winning her award; "Receiving CMSA's Award of Service Excellence is a tremendous honor. Being able to learn, give back, and advocate for professional case management practice has been a major source of inspiration to me over the years. Raising awareness at the local, state, and national level on the value professional case managers add to the populations served and our healthcare system as a whole is important work that has brought me great joy. I am truly grateful to CMSA and the professional case management community for this wonderful recognition."
CMSA sends congratulations to our winners, and thanks everyone who helped with the process. For information about CMSA's Awards, visit http://www.cmsa.org/Awards.
About the Case Management Society of America (CMSA)
Established in 1990, the Case Management Society of America is the leading non-profit association dedicated to the support and development of the profession of case management. CMSA serves more than 30,000 members, subscribers and participants, and 80 local and international chapters through educational forums, networking opportunities, legislative advocacy and established standards to advance the profession. For more information, visit http://www.cmsa.org or follow CMSA on Twitter @CMSANational.