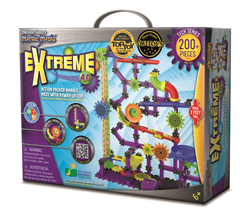 The Learning Journey takes top honors from some of the most prestigious awards programs.
Phoenix, AZ (PRWEB) July 12, 2017
The Learning Journey has continued its tradition of award winning products again in 2017. Three of the most prestigious awards programs have honored The Learning Journey with top honors in multiple categories including Toy of the Year from Creative Child Magazine for Techno Gears: Marble Mania Extreme 4.0!
Tillywig Toy and Media Awards has awarded The Learning Journey International with five "Brain Child" honors for 2017. The prestigious Brain Child category consists of "Exciting products that energize the mind while seamlessly blending fun and learning" – no easy task to accomplish. The 2017 product honorees include:
Puzzle Doubles-Find It Friends
My First Grab It! Space Match
My First Big Floor Puzzle - Farm Friends
Puzzle Doubles – Find It Dinosaurs
Techno Gears Quirky Copter
Match It! Letters
Telly the Teaching Time Clock
ABC- Melody Maker
To be selected as a Tillywig award winner, a product submitted must be determined by their testing team to have high entertainment and/or educational value. When assessing these values, many factors are focused and evaluated, including: ease of first use, replay value, quality appearance, social interaction and fun factor, creativity and thought processes and motor skills development. During the evaluation process, the products are used by several testers in an observed focus group format. The variety of testers and observers come from all walks of life and a broad range of ages.
The Mom's Choice Awards® (MCA) evaluates products and services created for children, families and educators. The program is globally recognized for establishing the benchmark of excellence in family-friendly media, products and services. The organization is based in the United States and has reviewed thousands of items from more than 55 countries. The Mom's Choice Awards honored The Learning Journey with multiple awards:
My First Grab it! Circus Match- Gold Award
Lift and Learn Clock Puzzle – Gold Award
Techno Gears Quirky Copter– Gold Award
Rocket Shape Sorter – Gold Award
Remote Control Colors and Shapes Dancing Dino – Silver Award
Creative Child Magazine's Awards Program is unique in that all products submitted are reviewed by moms, music educators and early education professionals. Products are reviewed by many people - the very people who would purchase them. The finalists may receive a prestigious Preferred Choice award or the Seal of Excellence based on their ability to exceed expectations for nurturing creativity and education in children. The Creative Child Awards seals are a distinguishing mark of achievement and desirability. Creative Child Magazine honored The Learning Journey with many awards this year. These awards include:
Techno Gears Bionic Bug- Creative Play of the Year
Little Baby Bongo Drums- Musical Play of the Year
Techno Gears Marble Mania Extreme 4.0- Toy of the Year
Rocket Shape Sorter- Preferred Choice
Early Learning ABC Auto- Travel Fun of the Year & Seal of Excellence
The Learning Journey International is a manufacturer and distributor of an exclusive line of award winning children's interactive educational products. Our products inspire learning, creativity and discovery as they enhance each child's potential. All products build on the skills necessary for children to be ready for school as they prepare to become our leaders of tomorrow. To learn more about The Learning Journey, please visit us online at The Learning Journey or contact us toll free at 877-839-3969.