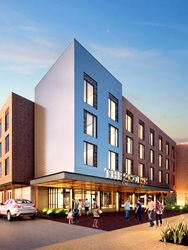 "It is art and luxury and fine dining coupled with that sense of warmth and welcome people expect in the south," says Valencia Group President Doyle A. Graham, Jr.
College Station, Texas (PRWEB) July 12, 2017
Steeped in an atmosphere of authentic Texas charm and bringing a sophisticated flair all its own, The George™ hotel will open its doors in August 2017. Taking its name from notable "Georges" such as George H.W. Bush and George Mitchell, this distinct 162-room luxury property makes its home within College Station's most vibrant community, Century Square, a 60-acre destination by Midway offering retail, dining and entertainment venues; office space; apartment homes; and an activated central gathering space – all merging to create a walkable, urban landscape authentic to the Brazos Valley.
No detail has been overlooked as every element of The George – from the layout of public spaces, to the selection of textures and color palettes, to its very name – has been purposefully and artfully composed. Taking their cue from the historic connotations of the name "George," Kirksey and Munoz + Albin architects and Mayfield and Ragni Studio interior designers strove to blend both English elegance and Southern tradition.
Long-time partners Midway and Valencia Group collaborated on the development of The George. Midway CEO Jonathan Brinsden said, "It has been incredible to watch the components of The George and the Century Square project overall come to fruition. The essence of this location – with its history and its link to Texas A&M – gives us an opportunity to tell a story and foster an atmosphere that truly reflects this community."
Valencia Group President Doyle A Graham, Jr. went on to say, "The George is that perfect intersection of the region's historic hospitality and tasteful, elegant and modern aesthetic. It is art and luxury and fine dining coupled with that sense of warmth and welcome people expect in the south."
"We are all incredibly excited for the opening of The George," said Texas A&M University System Chancellor John Sharp. "Along with the other dynamic developments at Century Square, this will truly help usher in a new era for College Station — not to mention the long term revenue that will be generated to support Texas A&M academics and research."
At first blush, art installations appear modern and abstract, yet they are in fact inspired by the area's long-held railroading and agriculture roots. The bold neon and modern graphics of Houston-based graffiti artist, GONZO247, are, for example, tattooed on the bright white of a flock of sculptured sheep that greets guests in the lobby. Exposed ceilings, brick accents, and rich wood tones are the canvas for imaginative furniture pieces and unique lighting fixtures, all of which are complemented by soaring windows and unexpected pops of contrasting color.
Each room welcomes visitors with custom Valencia beds graced by deluxe Egyptian cotton linens, plush, branded bathrooms, and a supply of indulgent bath amenities by Gilchrist Soames. Spacious workspaces, complimentary Wi-Fi, flat screen televisions, and generously stocked minibars ensure a comfortable stay. A complimentary continental breakfast awaits guests in the morning, made perfect by freshly brewed Katz Coffee. Those lucky enough to overnight in the posh VIP suite will enjoy some 1,900 square feet of space and balcony views of Texas A&M University, Kyle Field, and the Bonfire Memorial.
The hotel's thoughtful attention to detail carries over into The George's dining and refreshment options. Poppy, a reference to the playful nickname given President George H. W. Bush by his grandchildren, invites guests to take in the fresh air and open spaces of leisurely pavilion and porch dining, all while sampling tempting appetizers or settling into a full meal of favorite Texas flavors. Liquid refreshments take center stage at 1791, a whiskey bar commemorating the year of the Whiskey Rebellion. Pool views, live music, a choice of intimate or spacious seating arrangements and custom cocktail creations encourage lingering conversations and taking just a little more time to simply unwind.
The George features some 5,800 square feet of flexible meeting space, including a ballroom and boardroom – providing a memorable venue for one-of-a-kind private parties and first class business events. A modern fitness center, courtyard with sparkling pool, and cozy outdoor fire pits encourage both active and leisurely pursuits.
The George is located adjacent to retro-military inspired Cavalry Court hotel, which opened last autumn. Both are Midway and Valencia Group projects located within Century Square. Century Square is a public-private collaboration between Midway and The Texas A&M University System utilizing previously undeveloped land to deliver substantial benefits and an enriched quality of life for local residents and the region. Phase one of Century Square is anticipated to be complete in Fall 2017.
Introductory rates at The George start at $134 a night. For more information or to make a reservation, visit thegeorgetexas.com or call 1.866.842.0100.
High resolution images of The George are available here.
###
About Midway
Our purpose is to create enduring investments and remarkable places that enrich people's lives. Houston-based Midway is a privately owned, fully integrated real estate investment and development firm that has provided the highest level of quality, service and value to its clients and investors for almost 50 years. The Midway portfolio of projects completed and/or underway consists of approximately 45 million square feet of properties in 23 states and Northern Mexico ranging from mixed-use centers, corporate headquarters, multi-family, entertainment, hospitality, business and industrial parks, and master-planned resort and residential communities. Since its inception in 1968, Midway has created projects of distinction, aesthetic relevance and enduring value for its investors, clients and local communities. For more information on Midway, visit midwaycompanies.com.
About Valencia Group
Houston-based Valencia Group is a fully integrated hospitality company that provides management, development, branding and repositioning services for independent, full-service hotels owned by the company, in addition to third parties. Exceptional service, style and location have become brand trademarks. Earning both national and international recognition for their distinctive designs, amenities and settings, Valencia Group properties are destinations and gathering places within their respective communities, some further benefitting from and enriching their space within the cultural heart of a city. The company continues to forge a niche with hotels that anchor and add value to urban, mixed-use environments, which further support or enhance the guest experience with superior residential, restaurant, retail and office components. The Valencia Group portfolio currently includes the Valencia brands: Hotel Valencia Santana Row in San Jose, CA and Hotel Valencia Riverwalk in San Antonio, TX. The Sorella brand includes Hotel Sorella CITYCENTRE in Houston, TX by developer Midway. The court concept brands include Lone Star Court in Austin, TX and Midway and Valencia Group's Cavalry Court in College Station, TX. New openings in 2017 will include: Midway and Valencia Group's The George™ in College Station, TX and Midway's Hotel Alessandra in Houston, TX. For more information, please visit http://www.valenciagroup.com.