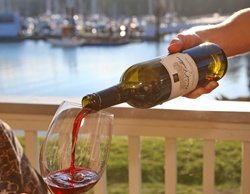 "We celebrate wine every day through our menu pairings, special events and educational offerings."
Port Ludlow, WA (PRWEB) July 13, 2017
The Fireside has been honored for its outstanding wine program in Wine Spectator's 2017 Restaurant Awards. The restaurant is recognized among other winners from all over the globe as a top destination for wine lovers.
"Restaurants continue to raise their game when it comes to wine, and we are particularly proud to present this year's winners," said Marvin R. Shanken, Editor & Publisher, Wine Spectator. "As wine becomes more important to diners, the Awards program is thriving—with an increasing number of entries, as well as growing print, digital and social audiences. Wine Spectator congratulates each and every award winner."
"We are delighted to receive this recognition again this year," said Debbie Wardrop, General Manager of The Resort at Port Ludlow. "We celebrate wine every day through our menu pairings, special events and educational offerings."
Wine Spectator began its program to recognize the world's best wine lists in 1981. There are three levels: the Award of Excellence, the Best of Award of Excellence and the Grand Award—with 2,335; 1,168; and 89 winners this year in each respective category. Five of the Grand Award winners are first timers.
The Fireside has won the Best of Award of Excellence. The Best of Award of Excellence recipients offer more extensive selections with significant vintage depth and excellent breadth across multiple regions.
The complete list of award winners is available in print in Wine Spectator's August issue, on newsstands July 18, and online at Restaurants.WineSpectator.com, where visitors can search and access exclusive content on the more than 3,500 restaurants. The full list is also available for free on iOS via the Restaurant Awards app, which allows users to look for dining spots in any location with maps, choosing by wine strengths, cuisine type, pricing and more.
Follow the Restaurant Awards on Twitter and Instagram, with hashtag #WSRestaurantAward.
About Wine Spectator
Wine Spectator is the world's leading authority on wine. Anchored by Wine Spectator magazine, a print publication that reaches more than 3 million readers worldwide, the brand also encompasses the Web's most comprehensive wine site (WineSpectator.com), mobile platforms and a series of signature events. Wine Spectator examines the world of wine from the vineyard to the table, exploring wine's role in contemporary culture and delivering expert reviews of more than 18,000 wines each year. Parent company M. Shanken Communications, Inc., also publishes Cigar Aficionado, Whisky Advocate, Market Watch, Shanken News Daily and Shanken's Impact Newsletter.
The Fireside is known for its blend of regional fare utilizing the rich bounty of the local farms and fisheries. Hand crafted cheeses and locally sourced poultry, beef and lamb are often featured on the daily dinner menu. Executive Chef Dan Ratigan and the skilled culinary team celebrate all the Pacific Northwest has to offer as they "play" with these bountiful products and create menus to pair with this well considered wine list.
The Resort at Port Ludlow is located in the Master Planned Resort Community of Port Ludlow that is nestled on the shores of Puget Sound, less than ten minutes from the west end of the Hood Canal Bridge. Once inhabited by the S'Klallam Tribe and previously a ship building town, Port Ludlow has grown into a vibrant community that hosts beautiful residential neighborhoods, a 37-room boutique waterfront inn, an award-winning restaurant, a 300-slip marina, and a championship 18-hole golf course, recognized as the "Most Scenic in the World" by Esquire Magazine.