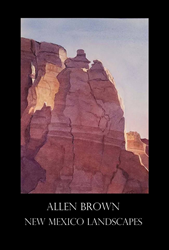 Los Alamos, NM (PRWEB) July 13, 2017
From 5-7 pm on Friday, August 4th, Allen Brown will give his first solo art show at the Karen Wray Gallery at 1247 Central Avenue, Suite D-2, Los Alamos, NM.
"Allen is an artist who should be more well known. He understands light, shadow, composition, design, and perspective," said Karen Wray, gallery owner. "He has lots of heart. He feels it, and you can see that in his work."
This exhibit will feature Brown's "New Mexico Landscapes" series in oils and watercolor. Brown said, "I love the abstract quality of canyon shadows and rugged landscapes."
While many artists have a specific story about when they first became interested in art, Brown can't remember a time when he wasn't an artist. "My father was a painter and I've been painting my whole life. My relatives have always been very encouraging. It never occurred to me not to paint."
Brown has always been a doodler, and some of the earliest gifts that his relatives gave him reflect his early talent and their support. At the age of five, one of his uncles gave him a "How to Draw" book. When he was young, he entertained himself trying to draw what he saw.
When he was eight, another uncle gave him a student oil painting set. "It was so frustrating!" he said. "I didn't know anything about oil painting at the time, so it was very hit or miss."
One of his cousins got into paint-by-number, and he loved to watch her do that. "It was a lesson in itself to see how the paint flowed."
He grew up in Wales, Maine, a small farm community with a population of 400 people. Even in elementary school, where they would spend an hour a week doing art, he noticed that people would give him a lot of positive feedback because he could draw. When he was 13, he moved to California where he enrolled in Redwood Junior High. At first it was a culture shock because his new class was bigger than the entire town of Wales.
It was 1959, and they had wonderful schools with an entire art department led by Mrs. Windweigh. "She was wonderful. She had a fondness for oriental art, which focuses on the abstract quality of everyday things. She taught us rules of balance and composition. After you catch on, you look into the viewfinder of a camera and you can just see it. She also taught the importance if simplicity, drama, focal points, and balance."
After high school, he served in the Navy for six years. After military service, he went to Napa Junior College, where he took many art classes. "They had a really good art department for such a small place," said Brown, who did a lot of oil painting and drawing.
His drawing teacher focused on hand-eye coordination—with the idea that if you can see it you can draw it—and contour drawing. "He was very effective at helping his students get what they want on the paper and building confidence."
Whenever someone tells Brown that they can't draw, he thinks of one of his fellow students in the drawing class. "There was a very shy woman who joined the class. She had never taken an art class in her life. She never even picked up a pencil to draw anything. But she did all the assignments. At first, she was awful, but her work got better with every assignment and she got an A in the class. She was open to learning. She had the right attitude, 'I'm a beginner; it's supposed to be hard at first.' When you take a class, you should relax and enjoy the experience."
Allen Brown's is featured at the Karen Wray Gallery. There will be a reception on August 4th from 5-7 p.m. He will be teaching watercolor classes at the gallery this fall. Call (505) 660-6382 to sign up.
The Karen Wray Gallery is located at 1247 Central Avenue, Suite D-2, Los Alamos, NM 87544. Their website is http://www.karenwrayfineart.com.