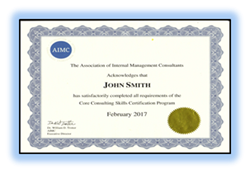 "Building consulting capability as a competitive advantage is more important than ever," says Dr. William D. Trotter, Executive Director of the Association of Internal Management Consultants
Marco Island, FL (PRWEB) July 13, 2017
The International Association of Internal Management Consultants (http://www.aimc.org) is excited to announce the launch of the AIMC Core Consulting Skills Certification Program (CCSCP), a digital learning-based, self-paced, comprehensive consulting capability building program that incorporates interactive 20-30 minute digital learning modules (powered by CrossKnowledge, a global integrated digital learning solutions provider) and supplemented by AIMC consulting tools, methodologies, and book chapters taken from the AIMC Knowledgebase. "Building consulting capability as a competitive advantage is more important than ever," says Dr. William Trotter, Executive Director of the AIMC. "Our members and their business consulting partners have indicated a need to develop a robust consulting capability building program for consultants and the CCSCP fulfills this need. It also accommodates the self-paced program structure and mobile accessibility that the AIMC members and other organizations requested of the program."
The CCSCP is built around the AIMC Competency Model for Effective Consultants, developed with the assistance of Connolly Clarke, LLC (http://www.connollyclarke.com), and is focused on the following core consulting competencies:

Business Acumen
Business Process Optimization
Change Management
Coaching
Customer Service Focus
Management Consulting Skills
Professional Impact
Project Management
CCSCP Program Highlights:
Core Consulting Skills Certification awarded by the AIMC upon successfully passing the comprehensive final exam
Membership to the AIMC (for one year upon program registration) – see benefits on home page of AIMC Website
Access to CrossKnowledge's Digital Library of over 10,000 learning assets until completion of Certification Exam
CCSCP Electives – digital learning courses to supplement the CCSCP, but not required for the Certification Exam.
Access to associated Reference Material from AIMC Knowledgebase.
Participants will have one year to complete the CCSCP from the date of registration
Core Consulting Skills Certification recipients acknowledged at AIMC International Annual Conference, April 2018.
CCSCP Target Audience:
Consultants who are relatively new to their consulting careers or looking for a "refresh" on basic consulting skills.
Organizational Development, Change Management, Human Resources, Finance, Strategy, Process Improvement, Lean/Six Sigma, Information Technology, Risk, Audit, Project Management, Supply Chain, and Quality professionals – essentially anyone who provides a consulting service within or outside their organization
Organizations who do not have a formal consultant training infrastructure but are looking to onboard and develop consulting staff in a consistent manner
Organizations looking for a competitive advantage in attracting and retaining consultants by offering consulting capability training as part of the onboarding process – and also to develop such competencies in their general management
CCSCP Pricing:
$1,950/registrant (program price also includes one year membership to AIMC and access to CrossKnowledge digital learning library until successfully passing the certification exam – for up to one year)
For More Information Regarding Program and Registration: Visit https://aimc.org/aimc-certification-programs/