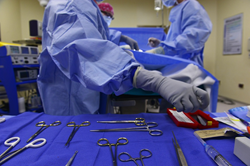 Particularly for American patients, it's still best to seek procedures from well-established, board certified plastic surgeons right here in the United States.
Beverly Hills, Caliifornia (PRWEB) July 12, 2017
A worldwide increase of nine percent in plastic surgery and cosmetic procedures highlights the growing status of these procedures in major cities worldwide, according to a July 4th article in Business of Fashion. Beverly Hills based plastic surgeon Payam Jarrah-Nejad, M.D., F.I.C.S., F.A.C.S., better known to his patients as Dr. J, says that the trend towards an increasing number of plastic surgery hubs in cities such as Seoul, Tehran, Shanghai, Rio de Janeiro, and Bangkok are a testament to both the increasing effectiveness of procedures and the public acceptance of these procedures in nations around the world. He notes, however, that, particularly for American patients, it's still best to seek procedures from well-established, board certified plastic surgeons right here in the United States.
The Business of Fashion article notes that, in some countries, there have been issues with ensuring the proper credentialing of those performing procedures; for example, in Colombia some unscrupulous and very poorly trained practitioners are exploiting a loophole in that nation's law with frequently tragic results. Dr. J says that, while it is still necessary to exercise a great deal of caution when selecting a plastic surgeon in the U.S., it is far easier for patients to be certain about their doctor's qualifications. The doctor notes that patients should only consider board certified plastic surgeons, which means that the doctor has been thoroughly vetted by one of the respected U.S.-based physicians' organizations charged with verifying medical credentials. For example, Dr. J notes that he is actually board certified by two such organizations, the American Board of Plastic Surgery and the American Board of Surgery.
Dr. J also points out that the emergence of the Internet and social media has also made it easier to find the best doctors. Such popular medical review sites as Yelp and RealSelf now allow patients to read the real-life experiences of other patients, and there are numerous venues, such as Instagram and Snapchat, where prospective patients can see before-and-after pictures demonstrating the possibilities of procedures, and even videos of doctors performing actual surgeries. Dr. J notes that he has received numerous five-star reviews from satisfied patients on Yelp and RealSelf, and that his site includes a number of galleries of before-and-after images from former patients.
Dr. J concludes by noting that, while it might be tempting for some individuals to try and save money on a procedure by having it in a foreign country, the risk of needing very expensive revision procedures or, worse suffering a severe injury or illness because of a botched procedure, is simply too great.
Readers who would like to learn more about Dr. J and his qualifications are welcomed to call his office at 310-683-0200. They can also learn more by visiting his web site.