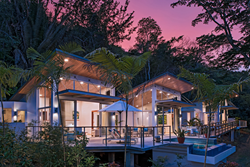 The Maya concept of agriculture was by nature organic and highly efficient
San Ignacio, Belize (PRWEB) July 18, 2017
The Lodge at Chaa Creek's Maya Organic Farm was recently highlighted in the July 2017 edition of Green Globe's "Global News" in what the popular Belizean eco-resorts owners say is welcome example of how healthy dining and the ethical sourcing of food is making a mark on the sustainable tourism landscape.
"Chaa Creek's Maya Organic Farm: An Ancient Resource for Today's Eco-Tourism" describes how owners Mick and Lucy Fleming's idea to offer guests fresh local food became a seed that grew into a tourist attraction and driving force behind farm-to-table dining at the Belizean jungle lodge.
Ms Fleming recalled that the impetus to start a traditional Maya organic garden came after she and husband Mick discussed the advantages of "reducing food miles and the use of pesticides and chemical fertilisers while serving guests fresh, healthy produce."
Although Chaa Creek began life as the Fleming's small farm on the banks of the Macal River, establishing a working garden while running a popular eco resort presented challenges. The solution, Ms Fleming said, "was fortunately right before our eyes, and had been there for thousands of years before we arrived in Belize.
"The Maya concept of agriculture was by nature organic and highly efficient, and Chaa Creek is surrounded by the remnants of ancient cities and vast suburban areas where a large populace managed to produce sufficient, healthy food for centuries," she said.
The Flemings engaged a Maya family to get the garden started, and, Ms Fleming stated, "thus began a mutually rewarding relationship with people and land that continues to thrive today."
Today Chaa Creek's Maya organic farm is an onsite attraction that produces a steady supply of fresh fruit and vegetables for the resort's restaurant, its downtown Guava Limb Café and local families while providing regular employment for seven Maya farmers.
Ms Fleming said the benefits extend well beyond the culinary considerations.
"One of the benefits that come from maintaining a commitment to true eco-tourism is that you embark on a lifelong learning adventure, and this has certainly been true for us in many areas, including agriculture.
"We discovered that true eco-tourism and responsible travel extends into many areas beyond environmental sustainability; there are important cultural, social, educational, and other considerations, and in trying to incorporate all those things into our operations and offerings new possibilities open up.
"For example, the desire to offer our guests fresh food created awareness about the importance of reducing food miles, and now also gives our guests the opportunity to learn about Maya farming techniques and how this ancient civilisation fed huge populaces in the middle of a jungle.
"We even have a popular educational kids' activity where young people spend time in the garden and that evening see the fruits of their labours as part of the family's dinner," Ms Fleming said.
One of Belize's first eco-resorts, Chaa Creek is situated in the midst of a 400-acre private nature reserve offering a range of accommodations, from a rustic Macal River Camp to the luxurious Ix Chel Villas featuring private Jacuzzis, plunge pools and personal butler service in a pristine jungle setting. With amenities such as a fine dining restaurant and lounge, infinity pool and the internationally recognised Hilltop Spa, the jungle lodge has developed a reputation as a model of how green business practices can go hand in hand with success.
Chaa Creek is now one of the region's most highly awarded eco-resorts, and took first place honours in their category at this year's National Geographic 2017 World Legacy Awards presented in Berlin.
The Flemings consider education to be an essential part of sustainable tourism, and say they welcome the rise of onsite food production in Belize's tourism and hospitality industry.
"We see the rise of healthy, farm-to-table dining and reduction in food miles as a very positive sign in the growth of sustainable tourism and responsible travel, and we encourage other resorts to investigate and try it themselves – having organic gardening become a resource for other resorts and an attraction for their guests are things we'd love to see spread throughout Belize and indeed the world," Ms Fleming said.
The Lodge at Chaa Creek is a multi-award winning eco resort set within a 400-acre private nature reserve along the banks of the Macal River in Belize. It was recognised by National Geographic with first place honours at the 2017 World Legacy Awards held in Berlin.