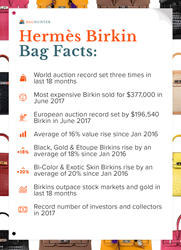 What we found validates our original thoughts and conclusion from the January 2016 study – the Birkin is on an unstoppable upwards trend and shows no signs of slowing down
Beverly Hills, CA (PRWEB) July 17, 2017
An update of Baghunter's research study published in January 2016 shows that Hermès Birkin bags remain on a positive growth trend, and has exceeded even the most optimistic expectations over the past 18 months. The study revisited a comparison between the S&P 500, gold, and Birkin bags. The data shows that the Birkin has risen in value by up to 20% in the period, outperforming both the stock and gold markets during a time when they are both considered by many analyists to be in the midst of a "bubble" period.
The dominance of the Birkin over the last 18 months is apparent with record-breaking world sales occurring three times in April 2016, June 2016, and June 2017 at auction. The Birkin also broke a European auction record in June 2017, displaying the strength of the market for Birkin bags as recently as this month. Also, research performed by Baghunter has shown an average value rise of 16% since January 2016, with limited edition, bi-color, and exotic skin Birkins fetching up to 20% more today than 18 months ago. All Birkin bags show an upwards trend over the past 18 months, with black, gold, and etoupe Birkins performing particularly well for investors.
"The recent record-breaking Birkin sales encouraged us to revisit our research study from January 2016", said Baghunter CEO, Evelyn Fox, "What we found validates our original thoughts and conclusion from the January 2016 study – the Birkin is on an unstoppable upwards trend and shows no signs of slowing down."
The study also looked at the performance of the S&P 500 and gold markets, both of which have enjoyed an excellent 18 months. However, while both markets have returned positive averages during this time, the Birkin still outperforms both with a slightly larger return. A glance at the charts plotting the movement of both markets also shows numerous peaks, troughs, and volatility over the last 18 months while the Birkin has maintained a continuous and steady growth over the period. The future of stocks and gold remains anyone's guess, however, based on historical data the future of Birkin bags looks bright and is going in only one direction – up.
Original Birkin Values Study: https://baghunter.com/pages/hermes-birkin-values-research-study
Updated Birkin Values Study:https://baghunter.com/pages/hermes-birkin-values-research-study-june-2017-update
About Baghunter
Baghunter is an A+ rated BBB accredited business which buys, sells, and consigns ultra-luxury handbags and purses including brands such as Hermès and Chanel. Baghunter also offers an authentication service for every bag sold through the website, a Bag Bespoke service for customization of bags with Swarovski crystals or bespoke artwork, a Bag Concierge service to help clients find rare and unique handbags, and a VIP Club which offers benefits to avid purse collectors.
Media Contact:
Shea Robinson
Phone: +1 (800) 221-5165
Email: press(at)baghunter(dot)com