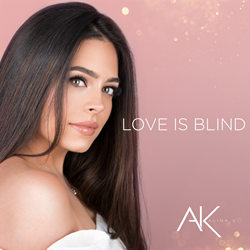 "LOVE IS BLIND" Debut Single
Dubai, United Arab Emirates (PRWEB) July 13, 2017
Alina K, a Romanian Lebanese singer based out of Dubai, is thrilled to announce the release of her new pop single "Love is Blind". The latter will be part of her upcoming album which will be released during the first quarter of 2018. "Love is Blind" is available everywhere starting July 10, 2017.
The new single and music video reflect Alina's desire to inspire people in relationships with their loved ones, putting love and hope at the forefront of their lives, especially ones with daily struggles and troubled minds. It also expresses the true meaning of endless relationships which are cultivated and fueled by boundless support and friendship throughout all circumstances of life.
"Passion is a subject that really matters to me, and I believe people should follow their passion without being influenced or judged by anyone," said Alina K. "In today's day and age, it is proving more difficult to pursue one's dreams. With music being the language of the soul, I hope I could inspire those who are struggling and motivate them into action, while reminding them about the beauty of life and its true worth.
Alina is planning to launch several singles this year as well as her first album in 2018. You can find Alina's latest single "Love Is Blind" in all major stores including Amazon Music, Anghami, Apple Music, Deezer, Google Music, ITunes and Spotify.
About Alina Kabbara
Alina Kabbara is a Romanian - Lebanese singer born in Bucharest, Romania in 1984. Known for her elegant style and fluid voice, Alina discovered the exhilaration and joy of singing since childhood, and has been paving her own path in the musical scene since 2004. She sings in Arabic, English, French and Romanian, and endowed with outstanding vocal capacities coming from an adventurous blend of traditional Arabic and western sounds.
Being a restless person by nature, Alina went through a lot of experiences that taught her to constantly move forward. She puts love and hope at the forefront of her music with a mission to empower females by singing about the daily struggles of a troubled humanity.
Through her music, Alina aims to deliver a message to inspire people in relationships with their loved ones. She also sings about life's challenges and struggles and how to achieve goals no matter how hard it gets, creating a boiling pot of positive feelings and love.
Alina has been featured on several broadcast channels such as MBC and performed pre-opening acts for major musical events in Qatar. Aline also recorded the official anthem of the UAE Sports National Day.
Website: http://alinakofficial.com/
YouTube: https://www.youtube.com/alinakofficial
Instagram: https://www.instagram.com/alinak.official/
Facebook: https://www.facebook.com/alinakofficial
Twitter: https://twitter.com/alinak_official
For PR, business Inquiries or bookings, please reach out to Walid at walid(at)alinakofficial(dot)com or call +971 50 7414331