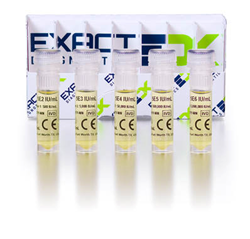 We are pleased to provide these IVD products to our customers to help improve overall assay verification, validation, and calibration, said Erin Kipperman, Director of Regulatory Affairs and Quality for Exact Diagnostics.
FORT WORTH, TEXAS (PRWEB) July 12, 2017
Exact Diagnostics continues to ensure consistent results by announcing the launch of the Exact Diagnostics Verification Panels for In Vitro Diagnostic (IVD) use. Panels available include: Adenovirus, BKV, CMV, EBV, HBV, HCV, HHV-6A, HHV-6B, HIV-1, HSV-1, HSV-2, VZV, and Zika virus.
The Exact Diagnostics Verification Panels may be used as calibrators to establish reference points for the measurement of various analytes in molecular assays. The Verification Panels have been value assigned according to ISO 17511:2003 (Measurement of quantities in biological samples -- Metrological traceability of values assigned to calibrators and control materials) using digital polymerase chain reaction (PCR) or real-time PCR and are calibrated against the World Health Organization's standards, when available.
About Exact Diagnostics:
Exact Diagnostics is a molecular controls and standards company. Exact Diagnostics manufactures following cGMP in an FDA registered/ISO 13485 Certified facility. Exact Diagnostics is a customer-centric, nimble business focused on the Infectious Disease, Genetics, and Oncology markets.
Contact Exact Diagnostics at CustomerService(at)ExactDiagnostics.com or by calling 817.989.9262.